September 13, 2013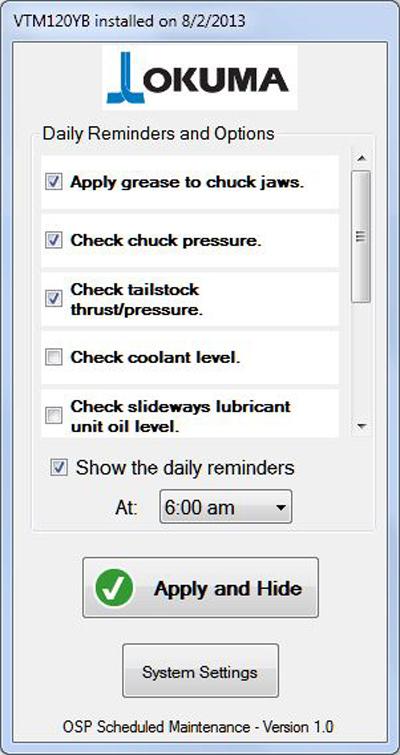 Okuma America Corp. has released a new app that displays scheduled maintenance and inspection reminders. Depending on the particular maintenance that needs to be performed, service recommendations can be displayed on a daily basis or intermittently throughout the life of the Okuma CNC machine tool directly on the CNC without interrupting programming. The new app enhances productivity by helping to minimize unplanned service and downtime.
The Scheduled Maintenance App automatically appears on the CNC when maintenance is needed based on the needs of the particular machine. It shows all of the maintenance tasks set for that specific machine by the Okuma software department. If tasks cannot be completed that particular day, the user has the option to choose when to receive the next reminder or can dismiss the warning.
Features of Okuma's Scheduled Maintenance reminders:
Logged job records to assist with troubleshooting issues
Reminders that are preprogrammed and based on the specific machine and serial number
Users can also opt for customized, periodic maintenance reminders that the operator selects upon installation. Daily reminders include routine checks for chuck/tailstock pressure, coolant/oil levels, etc. that can be programmed and scheduled to appear based on user preference. Once the maintenance has been performed, the operator checks off the tasks and minimizes the app.
The Okuma Scheduled Maintenance App is available for a variety of CNC lathes, multifunction machines, and machining centers equipped with the Okuma THINC OSP- P200 or 300 CNC. Apps like this are only possible using Okuma's THINC-OSP CNC because of its unique open-architecture platform. Both the Scheduled Maintenance reminders and the Daily Scheduled Maintenance reminders are available in one combined app.
Developed by Okuma's Application Engineers, the Scheduled Maintenance App is available for free download through the Okuma website. For more information or to download the Scheduled Maintenance App or other Okuma THINC apps, visit http://www.okuma.com/thinc-apps.
Related Glossary Terms
centers


centers

Cone-shaped pins that support a workpiece by one or two ends during machining. The centers fit into holes drilled in the workpiece ends. Centers that turn with the workpiece are called "live" centers; those that do not are called "dead" centers.

computer numerical control ( CNC)


computer numerical control ( CNC)

Microprocessor-based controller dedicated to a machine tool that permits the creation or modification of parts. Programmed numerical control activates the machine's servos and spindle drives and controls the various machining operations. See DNC, direct numerical control; NC, numerical control.

multifunction machines ( multitasking machines)


multifunction machines ( multitasking machines)

Machines and machining/turning centers capable of performing a variety of tasks, including milling, drilling, grinding boring, turning and cutoff, usually in just one setup.