November 01,2011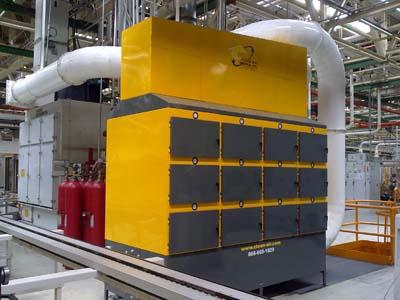 Clean Air America Inc. announces a new generation of industrial air cleaners, the Clean Air ScandMist. The ScandMist separates oil and emulsion mist and fumes created by modern machine tools and returns cleaned air directly to the production area.
"Various manufacturing operations, especially metal-cutting machining, a comprehensive term for turning, milling, grinding and boring, etc., generate oil mist and oil smoke that is hazardous to the work environment as well as the workers," said Jorgen Brahm, senior vice-president, Clean Air America. "Current filtration products can't keep up with the production demands of machines operating in a manufacturing environment. That's why we developed the ScandMist oil mist collectors."
Clean Air America licensed the ScandMist oil mist elimination technologies from Vokes Air in Sweden. Mist, smoke and harmful particles generated by metalworking machines are extracted at the source and cleaned by a three stage filtration process. The system efficiently separates oil fumes, oil mist, oily dust, and emulsion mist utilizing proprietary filters. Cleaned air is then returned directly to the workshop and exceeds international health and safety standards for maximum exposure limits to metalworking fluids, including standards by OSHA, NIOSH and HSE, etc. ScandMist utilizes Fiber Bed Principle filters that can operate continuously in the most extreme operating conditions.
Other features include:
Connection capability to several machine tools
Simple and low cost to install
Cleaned air can be returned directly to production area
Eliminates coolant mist (neat oil or emulsion)
Removes harmful particles including bacteria
No maintenance required, just read gauges
Main filter life can exceed 2 years; no filter cleaning required Speeds up production process
Simple and low cost to install Reduces power consumption
The ScandMist comes in a variety of models ranging from 400 to 50,000 cfm. In addition to these models, Clean Air also provides fully designed, turnkey oil mist removal systems tailored for each facility.
"Clean Air focuses on delivering 'green,' low cost, highly efficient solutions. Not only does ScandMist remove oil from the air, it allows you to collect the oil and re-use it within your operations," added Jorgen Brahm. "This saves the environment by keeping the oil out of landfills, lowers energy usage, and reduces costs."