March 21, 2023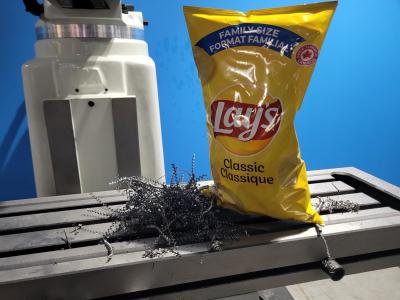 KBC Tools & Machinery introduces Octane Chip Guard t-slot covers for t-slot tables to save shops money and machinists and tool and die makers clean up and set up time. T-slot tables have been around for years, with almost every machine built today utilizing them….and the universal nightmare of all those t-slot grooves filling up with metal chips and needing to be cleaned out on a regular basis and before the next tooling set up. With Octane Chip Guards from KBC you can eliminate the hassle, the mess, and the potential eye injuries from operators blowing those darn chips out of the t-slots, and they make your machine look great.
KBC asked Derek Pulsifer, President of Octane Workholding LLC, how much time and money can a shop save using the Octane Chip Guard? Here is what he said, "A conservative estimate based on a small shop with one machine, and a $90 / hour shop rate based on 250 working days a year running a single shift, a shop that charges $90 an hour is spending $1.50 per minute.
Conservatively, the Octane Chip Guard easily saves 15 minutes per day and often times much more than that. That equates to $22.50 saved per day, and $5,625.00 per year on a single machine!
Automatic washdown is possible when the swarf can easily be evacuated, making cleanup a thing of the past for many shops.
We have customers with hundreds of machines, some with bed lengths longer than train cars…the return on investment can be staggering."
Octane Chip Guards are made from a high temperature silicone and come in 10 foot lengths in a bright and attractive blue and in the most popular t-slot sizes, ( 9/16"/14mm, 5/8"/16mm, 11/16"/18mm, 7/8"/22"). The flexible silicone Chip Guards are durable and washable and reusable should you need a different setup. In stock now at KBC Tools & Machinery in The US and Canada.
Plus, installation is easy as 1, 2, 3, with no special tools required:
1. Measure the length you need and trim with a utility knife. You can measure the full length of your table or around workholding setup, whichever you prefer
2. Apply a rust preventative to the t-slot and along the cover, this protects your bare metal surfaces and aids in installation. We recommend LPS3 or similar.
3. Pinch the flexible legs and press straight down into the t-slot. If the Chip Guard is difficult to install, place one end in the t-slot. Next, pull the opposite end with your free hand and begin pressing the Chip Guard along the groove from the starting side. Stretching the Chip Guard in this way reduces its width for the perfect fit. Press the Chip Guard until it is flush with the t-slots chamfer. The compressed silicone will retain itself for a very secure hold.
Related Glossary Terms
swarf


swarf

Metal fines and grinding wheel particles generated during grinding.