December 13, 2022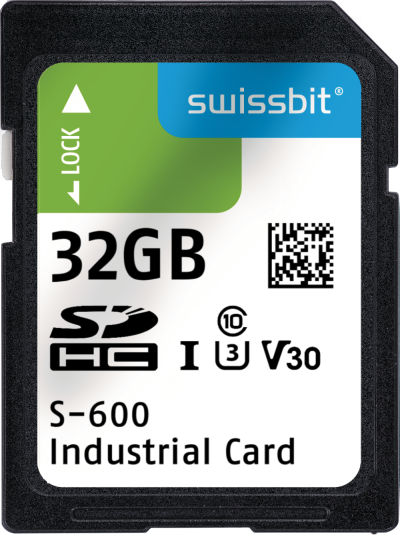 While many manufacturers are eliminating memory cards with SLC-NAND from their portfolios, Swissbit is introducing the S-600 series, the latest generation of SD and microSD cards based on single-level cell flash. When it comes to reliability, data integrity and data retention, the technology with only one stored bit per cell is still unrivaled. Only SLC offers 100,000 P/E cycles (Program/Erase Cycles), making it ideal for applications that require particularly robust, durable storage solutions. This is especially true for edge IoT applications in critical industrial environments, making the S-600 the first choice for devices such as PLCs, HMIs, sensors, switches, or gateways. The high-performance system architecture of the S-600 utilizes Hyperstone's new S9 controller, specifically designed for industrial flash memory cards. With sequential data rates of up to 95 MB/s, this new generation of cards is available in a wide range of sizes from 512 MB to 32 GB.
Swissbit's S-600 series is the first range to incorporate the new Hyperstone S9 NAND Flash Controller, explicitly developed for use in industrial applications. Unique firmware features guarantee an extended lifetime of safe and reliable storage of even the smallest data. First-class data preservation and data integrity is delivered in all situations: in high temperature conditions, through non-continuous writes, or sudden power failures.
Robustly developed for industrial application, the S-600 series is rated for use at temperatures ranging from -40 to +85 °C, and is resistant to humidity, shock, and vibration.
All S-600 series cards are fully SD 5.0 compliant and support both the SPI mode in embedded systems and UHS-I interface mode. UHS Speed Class U3 and Speed Class 10 are achieved, as well as Video Speed Class V30. Sequential data rates are 95 MB/s read and 55 MB/s write. Typical application scenarios for the SD and microSD cards include IPCs, HMI units, POS/POI terminals, medical systems, energy metering, and transportation.
The S-600 is available from 512 MB to 32 GB, and the S-600u microSD from 512 MB to 2 GB.
A broad SLC portfolio with the reliability needed for long-term planning
With the S-600 series, Swissbit is further expanding its range of single-level cell solutions, solidifying its position as one of the few manufacturers able to offer SLC memory technology for numerous form factors and interfaces. As a specialist in industrial memory solutions, Swissbit provides the quality solutions required by customers whose applications demand exceptional flash memory service life, for systems in constant use over many years.
With SLC variants for CFast and CompactFlash cards, numerous SATA modules, and 2.5-inch SATA SSDs, Swissbit ensures the reliable continued operation of customer applications both now and into the future.
Related Glossary Terms
flash


flash

Thin web or film of metal on a casting that occurs at die partings and around air vents and movable cores. This excess metal is due to necessary working and operating clearances in a die. Flash also is the excess material squeezed out of the cavity as a compression mold closes or as pressure is applied to the cavity.