January 11, 2023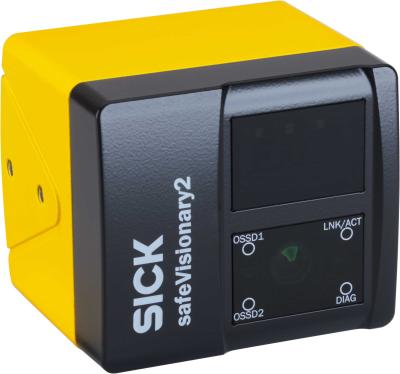 SICK introduces the first 3D time-of-flight (ToF) camera with Performance Level c (PL c) on the market – the safeVisionary2. It was developed to support customers in becoming fully autonomous in addition to providing 3D localization and object recognition. It is very effective for use on autonomous mobile robot because it provides precise 3D measurement data that allows for autonomous and intelligent mobile robot navigation.
This compact 3D camera helps to increase productivity and provides precise 3D measurement data to enhance automation. It is the first product SICK's 3D safety portfolio that will continue to grow, and it is also the first of its kind on the market.
The 3D environment detection enables seamless protection of numerous applications requiring PL c. With a 2m safety range and up to four field switching cases, the safeVisionary2 takes productivity to a new level. Based on the same ToF platform used by SICK's Visionary-T Mini, the safeVisionary2 is suitable for a wide range of applications, including industrial mobile robots, cobots, and mobile service robots.
Advanced protection and efficient automation of mobile robots
Mobile robots, from AGVs to AMRs, use LiDAR technology to intelligently navigate around a facility. The avoidance of collisions and a fast restart increases the availability of mobile robots. With safeVisionary2, obstacles above the scanning field level of a safety laser scanner are also reliably detected in the direction of travel, allowing for the avoidance of collisions. In contrast to 2D anti-collision solutions, safeVisionary2 can automatically restart in many cases.
In addition, side protection safety is also increased during turning and pivoting maneuvers of the vehicle after loading and unloading processes. The 3D environmental information can also be used in mobile applications for precise localization and navigation of the vehicles, available via Gigabit Ethernet.
Increased safety for improved human-robot collaboration
In the world of cobots, the spectrum of human-motion sequences is a particular challenge for safety. The safe 3D environment detection with safeVisionary2 reliably detects a person's upper body and upper limbs. In many cases, safety distances can be reduced around the cobot.
The power- and power-limited mode of robots is usually designed for the permissible force values of arms and hands, while the contact of sensitive body regions such as the face, skull, and forehead must be avoided. This made it necessary to stop the robot in the immediate vicinity of the personnel. safeVisionary2 enables extended protection of the robot work area at human-head height. The standstill is only necessary when a person moves his/her head into the work area.
In this application scenario, further use of the sensor data is particularly suitable, as the camera performs many tasks from detecting empty pallets to object localization and measurement. This combination of safety and automation reduces the implementation effort for additional components – users save costs and time.
More support for mobile service robots
If a mobile service robot is used in unstructured environments, such as a shopping mall, this requires a particularly careful risk assessment. Obstacles like stairs or ramps can pose potential crash risks for the robot. In addition to the evaluation of protection and warning fields for track protection, safeVisionary2 also enables cliff detection. The precise 3D measurement data offers real added value for contour-based navigation and other automation tasks.
The creation of a third dimension for robotic safety, allows SICK to create a wealth of new possibilities in mobile and stationary applications. safeVisionary2 can be configured easily, quickly, and cost-effectively via the intuitive SICK Safety Designer, which is already established on the market, and provides extensive diagnostic functions. With its comprehensive service and system approach, SICK succeeds in providing hardware, software, and service for mobile platforms from a single source – for more flexibility and variability in the industrial 3D safety world.
Related Glossary Terms
turning


turning

Workpiece is held in a chuck, mounted on a face plate or secured between centers and rotated while a cutting tool, normally a single-point tool, is fed into it along its periphery or across its end or face. Takes the form of straight turning (cutting along the periphery of the workpiece); taper turning (creating a taper); step turning (turning different-size diameters on the same work); chamfering (beveling an edge or shoulder); facing (cutting on an end); turning threads (usually external but can be internal); roughing (high-volume metal removal); and finishing (final light cuts). Performed on lathes, turning centers, chucking machines, automatic screw machines and similar machines.