November 25, 2020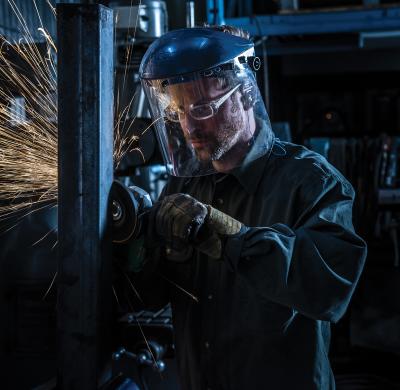 Saint-Gobain Abrasives, one of the world's largest abrasives manufacturers, has announced a new Safety Resource Microsite offering a wide range of resources to help ensure the safe design, application, and use of Norton abrasives products. Beginning in 1885 with the research, advocacy, and leadership of the founders of Norton Company, the company's commitment to safety has continued through the work of its Product Safety Department. Norton ǀ Saint-Gobain Abrasives has over 100 years of service to various safety programs such as ANSI, UAMA and others.
Educational content on the new Online Safety Resource includes Safety Data Sheets which are accessed by entering the UPC code found on Norton products. Safety Guides for Norton's most popular products such as Grinding Wheels, Portable Wheels and Coated/ Non-Woven Abrasives are offered. Ten informative Safety Videos cover a range of applications including using form belts, precision grinding and dressing, guard conversions on right angle grinders, wheel mounting, abrasives use on railroads and in foundries, and grinding wheel safety presented in English, Spanish and French.
A spotlight on the Product Safety Department is provided to get to know the team at Norton ǀ Saint-Gobain Abrasives whose mission is to design, manufacture and provide safe products.
A Safety Icon Library shows how to identify different types of safety icons including hazard alert, prohibition, mandatory action and proper machine use. Visitors can browse the latest articles to gain insight from Norton experts on abrasives safety and more. And the latest Norton Safety Poster is also available to order in English, Spanish and French.
Related Glossary Terms
dressing


dressing

Removal of undesirable materials from "loaded" grinding wheels using a single- or multi-point diamond or other tool. The process also exposes unused, sharp abrasive points. See loading; truing.

grinding


grinding

Machining operation in which material is removed from the workpiece by a powered abrasive wheel, stone, belt, paste, sheet, compound, slurry, etc. Takes various forms: surface grinding (creates flat and/or squared surfaces); cylindrical grinding (for external cylindrical and tapered shapes, fillets, undercuts, etc.); centerless grinding; chamfering; thread and form grinding; tool and cutter grinding; offhand grinding; lapping and polishing (grinding with extremely fine grits to create ultrasmooth surfaces); honing; and disc grinding.

grinding wheel


grinding wheel

Wheel formed from abrasive material mixed in a suitable matrix. Takes a variety of shapes but falls into two basic categories: one that cuts on its periphery, as in reciprocating grinding, and one that cuts on its side or face, as in tool and cutter grinding.