November 13, 2019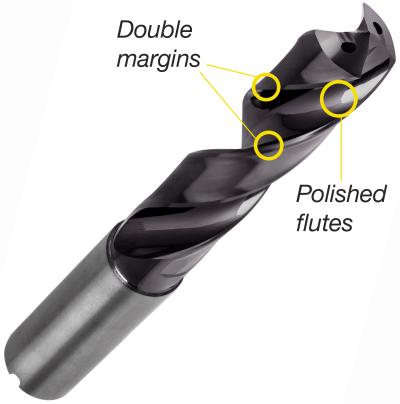 Guhring has just introduced a new drill family to the U.S.: the RT 100 XF. A new proprietary carbide grade, developed by Guhring specifically for the RT 100 XF, demonstrates the wear resistance to meet the demanding requirements of high-production machining and the durability to survive in less rigid machining conditions. The proven nano-FIREX coating has been improved by utilizing a specialized pre- and post-treatment process, which smooths out the coating.
Corner protection, achieved with a negative chamfer along the side of the cutting edge, creates an extremely tough and durable cutting edge with exceptional performance. The microgeometry honing process ensures a uniform hone resulting in a stable and efficient cutting edge.
The RT 100 XF's concave cutting edge, relieved cone point, and microgeometry hone yield an extremely smooth surface finish. This design results in increased operating parameters and extended tool life due to the decrease in cutting forces and operating temperature.
Double margins engage immediately, resulting in improved concentricity and straightness, as well as excellent surface finish. Polished flutes improve chip evacuation, significantly reducing machining temperature, which prevents workhardening and protects the cutting edges.
RT 100 XF drills are in stock in Wisconsin, available with coolant through from 3 to 20 mm diameter and 5xD and 7xD lengths. These drills excel in steels, but can also be successfully applied in stainless steels, cast iron, titanium and nickel-base alloys and hardened steels up to 45 HRC.
Additional Products from Guhring Inc.