September 01, 2015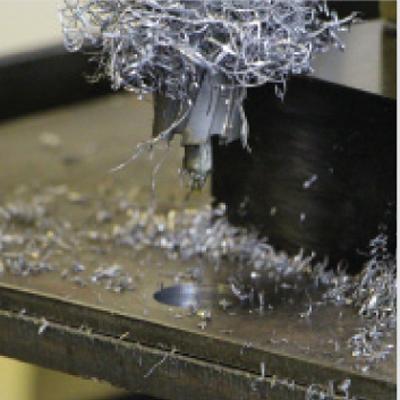 Engineered for drilling multiple plates, RotoBrute stack-cut cutters from Champion Cutting Tools are manufactured with a special ID grind, that cut cylindrical steel slugs without leaving the traditional "top hat brim." This enables multiple slugs to build up inside the cutter, which are cleanly ejected when the final plate is penetrated.
A popular stack-plate application is the truck frames extension drilling. Paired with the RB30 Low Profile magnetic drill press, CT150STK cutters cut up to 1-3/8" form a system for drilling truck frames and wheel arches. Available from stock from 5⁄8"-1" diameter. CT200STK cutters cut up to 2" depth and are available from 13/16" to 1-¼".
Related Glossary Terms
drilling machine ( drill press)


drilling machine ( drill press)

Machine designed to rotate end-cutting tools. Can also be used for reaming, tapping, countersinking, counterboring, spotfacing and boring.

inner diameter ( ID)


inner diameter ( ID)

Dimension that defines the inside diameter of a cavity or hole. See OD, outer diameter.