June 13, 2013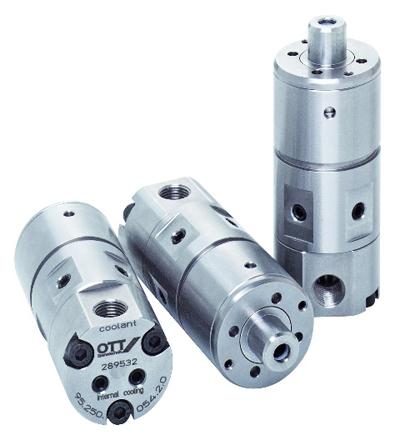 Designed like the Ott-Jakob type GD rotary union with permanently sealed surfaces, this newly developed rotary union from Advanced Machine & Engineering Co. also offers an integrated sensor that monitors leakage. The new rotary union with leakage sensor, along with our analog position monitoring sensor, offers you constant control of your clamping system, preventing costly damages to your clamping system or spindle.
Maximum RPM: 36,000; maximum coolant pressure: 80 bar; cleaning air maximum: 10 bar; maximum air pressure (after confirmation): 5 bar; filter porosity: less than 50.
Related Glossary Terms
coolant


coolant

Fluid that reduces temperature buildup at the tool/workpiece interface during machining. Normally takes the form of a liquid such as soluble or chemical mixtures (semisynthetic, synthetic) but can be pressurized air or other gas. Because of water's ability to absorb great quantities of heat, it is widely used as a coolant and vehicle for various cutting compounds, with the water-to-compound ratio varying with the machining task. See cutting fluid; semisynthetic cutting fluid; soluble-oil cutting fluid; synthetic cutting fluid.