November 07, 2016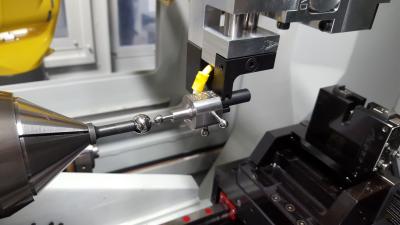 ANCA's new RoboTeach solution enables greater efficiency and accuracy when setting up robot automation on their CNC grinding machines. By automating the teaching of the RoboMate FANUC 200iD robot, the new product significantly decreases downtime, supports greater productivity, and reduces the need for specialized operator skills. Robot teaching time can be reduced from several hours to less than 30 minutes.
Simon Richardson, ANCA MX machine platform product manager, said, "Until now, teaching of the FANUC robot (200iD) on RoboMate could be labor intensive and require a unique set of operator skills. Furthermore, accuracy could vary depending on the user conducting the teaching. To solve this problem, ANCA has released RoboTeach, a software product that automates the teaching of the RoboMate FANUC 200iD robots on our MX and TX machine platforms."
RoboTeach promotes consistent teaching of the robot, contributing to improved grinding accuracy and better grinding cycle times, according to the company.
RoboTeach is a machine-run program that uses the high accuracy of the grinding machine to measure the robot position and automatically teach and calibrate robot positioning. The teaching process uses an electrical contact touch probe held in the robot gripper and a mandrel that locates the position of the machine collet adaptor and tool storage pallets.
A series of instructions on the operator screen guide the user on how to teach the FANUC robot using ANCA Loadermate software. The easy-to-follow instructions ensure the operator can quickly and easily teach the robot positions and coordinates.
The RoboTeach product has a software option and teach tooling kit. The teach tooling kit is supplied in a compact carry case with relevant teaching materials.