April 26, 2022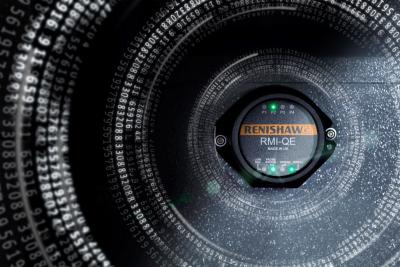 The next generation system will be one of many smart factory process control solutions demonstrated by Renishaw, which are proven to help machine shops across many industries transform their production capabilities.
The new system comprises an ultra-compact RMI-QE radio interface with an updated communication protocol, as well as major updates to the complete range of market-leading radio transmission probes. The new enhancements deliver significantly improved battery life, simplified set up, and remote diagnostics to all radio probes.
A connected interface for a digital future
Situated inside the machining environment, the RMI-QE interface features an updated communication protocol and is future-proofed to support a new generation of Renishaw sensors and smart devices.
Robust and reliable in busy radio environments, the RMI-QE utilizes an updated version of Renishaw's industry proven 2.4 GHz frequency hopping spread spectrum (FHSS) radio transmission technology and remains compliant with radio regulations worldwide. The system is suitable for applications that cannot guarantee line-of-sight between probe and receiver – such as in 5-axis, multi-tasking, and mill-turn machines. It also allows up to four separate tool setting probes or spindle probes to be operated on the same CNC machine – ideal for machining centers with rotary tables or twin pallets.
The ultra-compact design enables a multitude of flexible mounting options and full backwards compatibility is provided to simplify conversion from legacy RMI-Q interfaces.
User friendly probing
Users have always been able to manually configure Renishaw radio probe settings to suit the operating conditions of their machines – particularly useful for high vibration and high-speed applications. However, the process is now significantly easier. In an industry first, the Opti-Logic™ technique, accessed via the new Probe Setup app, enables probe settings to be configured using a smartphone. Selectable options displayed on the smartphone screen are transferred to the probe through a two-way communication. Not only does this significantly simplify the configuration process but also makes remote diagnostics possible via common applications, including email, iMessage®, WhatsApp, LINE and WeChat.
Environmentally friendly probing
Updates to the probes' electronics and radio transmission deliver an increase in battery life of up to 400 per cent, which when used with the RMI-QE, offers an industry-leading battery life of up to five years based on typical usage. But, as James Hartley, Applications and Marketing Manager for Renishaw's Machine Tool Products Division explains, this design change is more than just battery life improvements, "While we are immensely proud of the technological advancements this next generation system delivers, we are equally proud of our on-going project to increase the environmental efficiency of our products. With the battery life improvements demonstrated here and with recent improvements to our OMP40-2 and OSP60 optical transmission probes, we are committed to minimizing the environmental impact of our products by reducing the consumables associated with them."
Related Glossary Terms
centers


centers

Cone-shaped pins that support a workpiece by one or two ends during machining. The centers fit into holes drilled in the workpiece ends. Centers that turn with the workpiece are called "live" centers; those that do not are called "dead" centers.

computer numerical control ( CNC)


computer numerical control ( CNC)

Microprocessor-based controller dedicated to a machine tool that permits the creation or modification of parts. Programmed numerical control activates the machine's servos and spindle drives and controls the various machining operations. See DNC, direct numerical control; NC, numerical control.

process control


process control

Method of monitoring a process. Relates to electronic hardware and instrumentation used in automated process control. See in-process gaging, inspection; SPC, statistical process control.