April 26, 2023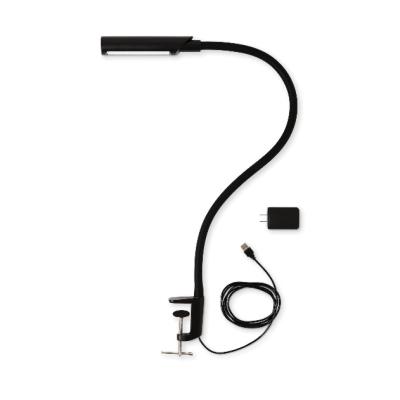 The Reliable Uberlight is an affordable solution to light up your work area and your world with up to 600 lumens, 9 settings, (2700k, 4000k, 5000k, and 3 color settings – warm white, natural white, or ultra bright). This allows each machinist, tool and die maker, CNC operator, or fabricator to choose the combination that works the best for their work, whether it is a cool bright light or a warm sunny light, Reliable and KBC provide the task lighting to get the job done without eye strain.
The Reliable Uberlight comes in black or white and 3 styles: with a convenient clamp mount to easily mount on any machinery or worktable, with a 7.75" base to prevent tipping, or a direct table mount, (black only, shown below. With its 26.5" silicone gooseneck and 270 degree rotational head the Reliable Uberlight allows light precisely where needed with a great hold. The 4.75" LED panel does not create glare or flickering and provides up to 60,000 hours of use and 240% more luminous efficiency. All provided with a 6' USB cord and adapter.
@wrightmachining recently commented on KBC's Instagram post, "It's a great light, game changer at the milling machine." KBC adds that it can be a gamechanger on any of the machines in a shop, or in assembly, inspection, or design areas, as well as for home use for work and hobbies. When tools, workpieces, and machining can be seen clearly, rework and mistakes diminish.