September 26,2016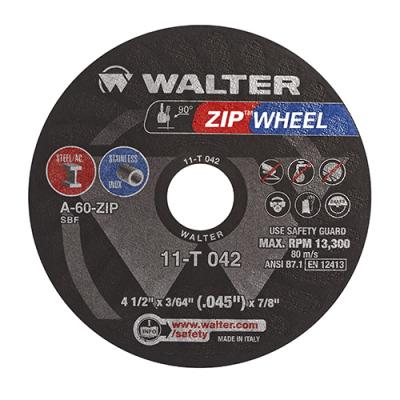 Walter Surface Technologies launched its redesigned Zip Wheel. The new abrasive disc offers even higher efficiency and better performance than its predecessor.
Since the original launch of the product back in 1986, the Zip Wheel has been a popular thin cut-off wheel in the metalworking industry. "At that time, we set out to design a wheel that delivered the right balance between price, performance and safe design," says Marc Brunet-Gagné, product manager, bonded abrasives at Walter Surface Technologies.
Now 30 years later, building on that same foundation, the new and improved Zip Wheel has been reengineered from the ground up, taking its performance to an even higher level. "The new Zip Wheel is made with Walter's proprietary grain blend, so the disc cuts faster than ever through steel and stainless steel, which helps reduce project times and increase productivity at job sites," elaborates Brunet-Gagné.
The disc is now more rigid, which allows for consistently straighter cuts. It was also constructed with a patented reinforced rib design on each side that allows for cooler cutting. "The wheel is more durable, improving its ability to withstand even the toughest materials, not to mention it's much safer for users," adds Brunet-Gagné.
The Zip Wheel is manufactured using a new and improved bond matrix, which greatly improves the life of the cutting disc.
In addition, the product reduces its ecological footprint by lasting longer and reducing the amount of dust it creates, resulting in a more favorable work environment. "Because the product lasts so much longer, you ultimately use less wheels, and can therefore reduce your inventory and production costs," says Brunet-Gagné.
Related Glossary Terms
abrasive


abrasive

Substance used for grinding, honing, lapping, superfinishing and polishing. Examples include garnet, emery, corundum, silicon carbide, cubic boron nitride and diamond in various grit sizes.

metalworking


metalworking

Any manufacturing process in which metal is processed or machined such that the workpiece is given a new shape. Broadly defined, the term includes processes such as design and layout, heat-treating, material handling and inspection.