September 13, 2018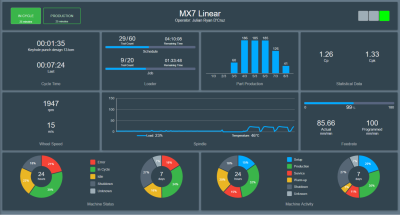 Cloud-based management software is helping CNC machining to design, test and produce tools faster and more accurately than ever before. ANCA has developed its own Redax 2.0 software package to network grinding machines to send and receive data.
Redax 2.0 provides you the means to view, analyse, manage and generate reports on all your machines' production data, increasing the efficiency of your machine – all in one simple-to-use package.
Thomson Mathew, ANCA product manager said: "Our latest software solution will help our customers design, test and produce tools no matter where their facilities are connected. Pooling live data means customers can optimise their manufacturing processes in real time, even from the other side of the world. From predictive maintenance to better analytics on operational performance – there are many reasons manufacturers are talking about Industry 4.0."
Pat Boland, ANCA joint co-founder said: "When we compare how we made CNC machine tools in the '70s to now, the biggest change isn't the tools themselves - although obviously they are different. The biggest change has been how we communicate; how we communicate between ourselves, and how we communicate with our machines.
"In the '70s communication was incredibly primitive by modern standards. If we wanted to send a message across the country we'd use a telex machine that would run 10 characters a second. As for communicating with the machines, we just didn't do that. We'd manually load programs and hope that nothing went wrong. Later, we shifted to dial up modems using standard telephone lines. This was a huge leap, sending communications at a powerful 248 characters per second!
"Another massive leap in communication was in 1991 when we released the first five-axis machine tools that came standard with a modem. Suddenly we could communicate with the machine and the diagnostics were out of this world! Nowadays we are well and truly in the thick of another evolution, perhaps another revolution – Industry 4.0. This new era means high bandwidth communications that can send almost unlimited data between machines and computers all over the world."
How Redax 2.0 is creating a smart factory:
Production data and activities are accessible anytime even when your machines are shut down to view, analyse and generate reports on machines' operations using your favourite browser via your desktop, mobile phone or tablet.
Network connectivity is seamless and simple with plug and play ANCA-supplied USB Wi-Fi adapter for each machine to access your company's wireless network.
Get notifications via email or SMS if the machines are down so that action can be taken immediately for their resolution.
Cloud providers offer sophisticated security for production data.
Being networked to the cloud also lowers the cost of your IT maintenance infrastructure and resources.
Network connectivity is seamless and simple for both Redax 2.0 packages. This is possible with plug and play ANCA-supplied USB Wi-Fi adapter for each machine to access your company's wireless network. This reduces the cost and hassle of connecting all your machines by cable.
Redax 2.0 – On-Premise Package
The on premise package is supplied with Intel NUC (Next Unit of Computing, a small form factor mini computer) with the Redax 2.0 server preconfigured and preinstalled for plug and play to your company network.
Redax 2.0 - Cloud package
This package allows companies to connect all their machines to the cloud making their production data instantly available anywhere, anytime in the world wherever you are.
To keep the data secure two measures ensure no outside party will have access to your company's data except ANCA selected authorized personnel. Firstly, the software is hosted by ANCA's chosen cloud provider with sophisticated security measures and, secondly, users will have their own personalized secure login.
Related Glossary Terms
computer numerical control ( CNC)


computer numerical control ( CNC)

Microprocessor-based controller dedicated to a machine tool that permits the creation or modification of parts. Programmed numerical control activates the machine's servos and spindle drives and controls the various machining operations. See DNC, direct numerical control; NC, numerical control.

grinding


grinding

Machining operation in which material is removed from the workpiece by a powered abrasive wheel, stone, belt, paste, sheet, compound, slurry, etc. Takes various forms: surface grinding (creates flat and/or squared surfaces); cylindrical grinding (for external cylindrical and tapered shapes, fillets, undercuts, etc.); centerless grinding; chamfering; thread and form grinding; tool and cutter grinding; offhand grinding; lapping and polishing (grinding with extremely fine grits to create ultrasmooth surfaces); honing; and disc grinding.