February 28, 2017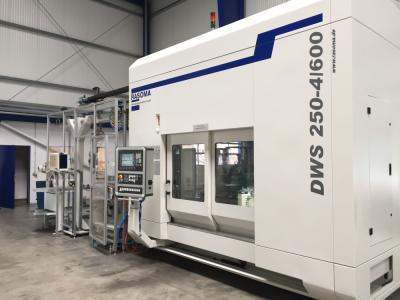 German Machine Tools of America (GMTA) offers a full line of Rasoma machining centers, including vertical turning centers, 4-axis shaft turning centers, end machining centers, double-spindle and various special-purpose machining centers with full automation is offered. Rasoma is a large machine tool builder, founded in 1919 and based in Döbeln, Germany, who provides contract manufacturing to some of the best known brands in the global auto industry, as well as its own brands.
Gear machines for milling, hobbing and shaping are available in a variety of configurations and the GMTA application engineering team can assist interested parties to determine the best solution.
Rasoma machining centers offer high rigidity, due to separate X and Z slides plus the machine head is designed as a monoblock with polymer concrete fill. Thermal stability is enhanced by cooled motor spindles and the rapid traverse on these centers ranges up to 60m/min. at high acceleration, with feed and removal speeds to 120 m/min., less than 6 seconds from part to part and turret indexing typically under 1 second.
Full option packages include robotic handling and part articulation, integrated metrology onboard, working inside or outside the work envelope, full tool measurement and monitoring systems and driven tool packages, all controlled by a single Siemens CNC.
GMTA President Walter Friedrich comments: "This alignment dovetails perfectly with our other lines of gearmaking, laser and finishing machines and systems. It will enhance our value proposition considerably in our current market of primary automotive and will also open other market opportunities for our company. We have made substantial investments in new personnel and floor space, both here in the U.S. and at our Mexican facility, to support these new additions to our portfolio of quality German machine tools."