August 30,2016
Related Glossary Terms
centers


centers

Cone-shaped pins that support a workpiece by one or two ends during machining. The centers fit into holes drilled in the workpiece ends. Centers that turn with the workpiece are called "live" centers; those that do not are called "dead" centers.

computer numerical control ( CNC)


computer numerical control ( CNC)

Microprocessor-based controller dedicated to a machine tool that permits the creation or modification of parts. Programmed numerical control activates the machine's servos and spindle drives and controls the various machining operations. See DNC, direct numerical control; NC, numerical control.

fixture


fixture

Device, often made in-house, that holds a specific workpiece. See jig; modular fixturing.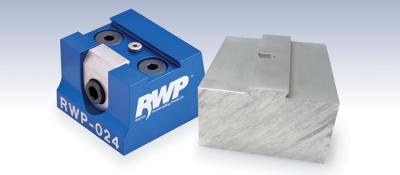 Raptor-ready dovetail blanks from TCI Precision Metals are custom produced to your specifications and are machine-ready—order from one to thousands with quick turnaround. Each Raptor-ready dovetail blank includes a dovetail feature to match your specified fixture model and arrives machine-ready to go from receiving directly into your CNC machining centers.

Maximize your investment in Raptor dovetail fixtures with Raptor-ready dovetail blanks from TCI Precision Metals:
• Reduce setup time, including the number of setups
• Eliminate material prep—one less unnecessary operation in your shop
• Make fixturing and clamping faster and easier
• Reduce waste
• Reduce cycle time, chip-to-chip
• Improve part quality
• Better inventory management
• Reduce bottlenecks