October 19, 2016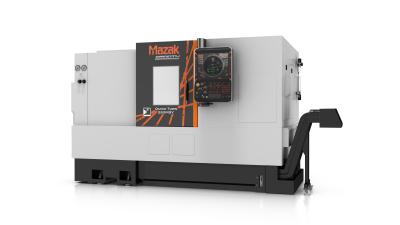 For those shops looking to boost productivity as well as profitability, Mazak's QUICK TURN-250MSY turning center sports several new productivity-enhancing features. These include a new direct-drive turret design, higher torque main spindle, a faster more powerful milling spindle and the MAZATROL SmoothG CNC.
The QUICK TURN-250MSY – with multitasking functionality – has two turning spindles, a rotary tool milling spindle and Y-axis capabilities for single setup part processing operations. The machine's new 12-position, direct-drive turret eliminates the use of belts for improved part surface finishes and reduced maintenance. It accepts both VDI and bolt-on tooling.
The turret's standard direct-drive rotary tool spindle is now 10 hp, 6,000 rpm. The faster rotary spindle provides 52 ft.-lbs. of torque, essentially double of what was possible before with the previous version. And with an optional tooling package, 10,000 rpm is available.
The machine's headstock features a 10" main chuck mounted on a 35-hp, 4,000-rpm integrated spindle motor for heavy-duty metal removal. To effectively tackle today's tough part materials, Mazak bumped up the torque output of the spindle by almost 30 ft.-lbs. The main turning spindle also serves as a C-axis that is programmable in 0.0001-degree increments to accurately position parts for square facing and slotting cuts and precisely drilled holes. The C-axis spindle is a full-function CNC controlled axis for milling. A second turning 15-hp, 6,000-rpm spindle with a 6" chuck allows the QUICK TURN-250MSY to machine small diameter workpieces with speed and accuracy.
The QUICK TURN-250 machine models without second turning spindles feature Mazak's new NC servo-drilling tailstocks as standard. The fully programmable tailstock drives the W-axis on its own AC servomotor and ball screw. Through the part program, the tailstock will retract to a known position and its center makes contact with the part with consistent holding pressure. Thrust settings are completely adjustable – high thrust or low thrust – without having to retouch the part.
Mazak's MAZATROL SmoothC and SmoothG CNCs offer EIA/ISO programming as well as conversational programming that makes it easy to generate programs for complex drilling, milling or tapping operations. The controls also feature advanced hardware and software functions that help ensure high productivity and performance accuracy in challenging part production operations.
As a higher level control, the MAZATROL SmoothG incorporates a wide variety of advanced programming functions for ease of use and to ensure high-speed, high-accuracy machining performance. These functions include High Gain Feed Forward Control, Fast Rotary Axis Speeds, Variable Acceleration Control and Intelligent Pocket Milling.
A variety of automation strategies can be integrated with the QUICK TURN-250MSY, from an automatic bar feeder to gantry robots, for improved spindle utilization and a significant boost in productivity.