September 24, 2019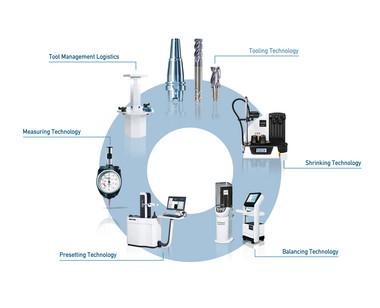 Among machinists, Haimer shrinking, balancing and presetting machines are known to be extremely low-maintenance, robust, durable and reliable. But even the highest quality components wear out eventually. The best way to avoid downtime is to have a regular service check from an experienced Haimer application engineer. It's the same idea as giving your car that routine oil change to keep it in tip top shape. Knowing your equipment is in top operating condition gives you much more confidence than just assuming (or hoping) it is.
The company reports that it has received a lot of requests from customers to make regular maintenance easier by adding contractual Premium and Quality Maintenance Programs to our standard service offerings. Not only do they protect your Haimer equipment, they help you keep to your production schedule on the shop floor. Built-in savings and discounts make them appealing to the accounting department as well.
While Haimer has offered service and maintenance calls on an as-needed basis in the past, with these standardized service contracts, all of its engineers will be following the same guidelines on each and every call. Following are the different service levels now offered coast to coast, as well as Canada and Mexico.

Haimer's regular "as needed" service call is still available. This includes a visit from an experienced application engineer, but travel costs, wear (consumable) parts and spare parts are not included.

This three-year service contract provides for regular scheduled appointments for maintenance of your Haimer machines and expedited availability of a Haimer engineer without an extra charge. In addition, you enjoy a 15% discount on wear and spare parts.

This three-year service contract offers all the advantaged of the Premium Maintenance program and includes all travel expenses, spare parts and a 35% discount on wear parts.

These preventive maintenance agreements are designed to keep your Haimer equipment in top operating condition at all times. This means precise, consistent quality from workpiece to workpiece. If a quality issue does come up, you can automatically eliminate the machine from the equation, saving you time and money.
With the cost of travel today, the savings on one Quality Wins Maintenance call alone can almost pay for the cost of the contract. In addition, as a contract owner, your name goes to the head of the line over regular maintenance requests. You can even combine service offers for all your Haimer machines and benefit from additional discounts.
Naturally, the best time to sign up for a new maintenance agreement is when you purchase your Haimer machine. However, machines less than three-years old are also eligible.

If your organization needs calibration certification for ISO 9001, the company offers the option of purchasing an official ISO certificate for your Tool Dynamic Balancing Machine or Microset Presetter.
Related Glossary Terms
calibration


calibration

Checking measuring instruments and devices against a master set to ensure that, over time, they have remained dimensionally stable and nominally accurate.
Additional Products from Haimer USA LLC