October 01, 2011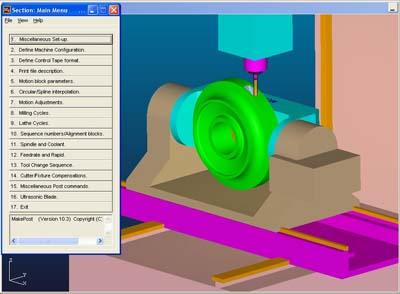 NCCS (Numerical Control Computer Sciences) announce that PostWorks Version 11.3 is available for general release. PostWorks is a high-end universal postprocessor which generates precise NC code for a wide variety of machines including mills, lathes, and multi-tasking machines. In addition, PostWorks is compatible with all popular CNC controls including Heidenhain, Siemens, and Fanuc.
NCCS has added many significant enhancements to PostWorks over the last several years, which include:
Enhanced A/C style rotary axis "look ahead" feature
An Auto retract and unwind without LINTOL being on Added the ability to specify a machine name
Added the ability to use a different LINTOL tolerance for RAPID moves
Other CAM system interfaces CLREAD (look ahead through the input file)
The ability to open, read, and write to external files Added an Auto Doc postprocessor
More accurate machine time calculations and
5-axis cutter compensation
Add-ons to PostWorks include sophisticated simulation software that simultaneously and quickly simulates the material removal process and machine movement while performing interference checking between all relevant components of the machining environment.