July 07, 2016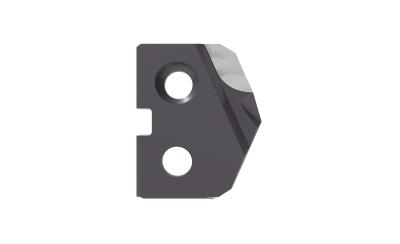 Allied Machine & Engineering highlights the availability of its PCD T-A Drill inserts, designed for drilling in carbon fiber-reinforced polymer (CFRP), used in lightweight aircraft wings and fuselages, and other highly abrasive substances. The PCD inserts improve tool life and value over competing products, according to the company.
The T-A Drill series features a replaceable tip design, allowing users to replace only the tip of the tool when it has worn out, unlike competing products that require the entire tool to be removed and replaced. This saves costs for users in the long run, reducing the cost of replacement tools.
Allied Machine's PCD T-A Drill inserts feature the standard T-A Drill insert with PCD wafers installed at the insert's cutting edge. Developed to meet the needs of a major U.S. aircraft manufacturer when the company began using CFRP for wings and fuselages nearly a decade ago, the PCD T-A inserts are reliable and provide cutting efficiency.
The PCD inserts can withstand strong and highly abrasive materials like CFRP-titanium stacks, aluminum, titanium, copper, magnesium, fiberglass and chipboard, which are frequently used in the aerospace and automotive industries.
Related Glossary Terms
abrasive


abrasive

Substance used for grinding, honing, lapping, superfinishing and polishing. Examples include garnet, emery, corundum, silicon carbide, cubic boron nitride and diamond in various grit sizes.

polycrystalline diamond ( PCD)


polycrystalline diamond ( PCD)

Cutting tool material consisting of natural or synthetic diamond crystals bonded together under high pressure at elevated temperatures. PCD is available as a tip brazed to a carbide insert carrier. Used for machining nonferrous alloys and nonmetallic materials at high cutting speeds.