June 17,2016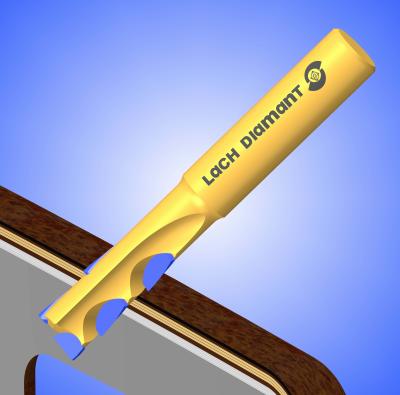 Horst Lach's discovery of spark erosion for the machining and cutting of polycrystalline electro-conductive cutting materials (such as PCD) in 1978 opened unimagined possibilities and a new future for the soon to be named "PCD or diamond tools."
Traditional cutting materials, such as the cutting material provided by General Electrics in 1973, required time-intensive grinding with diamond wheels. Now, the new erosion procedure shortened grinding times – and as a result tool prices – significantly.
Once again, LACH DIAMOND's pioneering role led to the invention of "spark grinding," and later to the development of a new erosion grinding machine EDG-plus, in addition to the then known EDM wire, sink eroding and the beginnings of NC and CNC methods.
The production of rotary tools, such as milling tools, was now possible, even with different axle angles. This initiated a never-thought-possible revolution in mechanical engineering, especially in the wood and plastic processing industry. In the 90s, metal and automobile industries should also profit from these developments, CNC in particular.
LACH DIAMOND PCD milling cutters, with diameters from 0.6 to 450 mm (and with integrated dust extraction systems for larger diameters), scoring saws, saw blades, drills, step drills and other tools are now successfully established in the composite industry – CFRP, GRP, wood, and plastic machining - for more than 3 decades. They are also used in the production of circuit boards, furniture, flooring, laminates, airplane, wind turbines and more.