December 17, 2019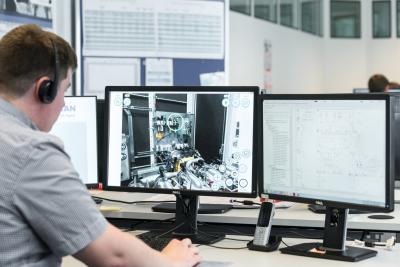 To guarantee continuous and consistent cleaning results, it is essential that cleaning can be planned. For this, a system has to function in an optimal way and fluctuations in the process or unscheduled downtimes must be avoided. A service concept that is tailored to the requirements of the equipment user and implemented in close cooperation with the manufacturer helps to achieve this. Therefore, Ecoclean has developed a wide range of services that can be individually combined.
In all industrial sectors, component cleaning plays a major role when it comes to product quality and added value. If equipment does not function according to plan or if a cleaning system suffers unscheduled downtime, this usually has negative consequences, such as the return of faulty goods or disruptions to production or delivery processes. The result is increased unit costs, which are detrimental to profitability and competitiveness.
Remote service provides fast and efficient remote assistance in the event of malfunctions. The new service app enables two-way exchanges via video calls with transmission of live imagery.
Optimized process quality and equipment availability
If process quality and the availability of the cleaning system are always kept at an optimal level, related costs and image damage can largely be avoided. Ecoclean has developed a comprehensive portfolio of services and products for this purpose. The services offered range from advice during the planning of a new system to ensuring the availability of the system throughout its entire service life, as well as assistance in optimizing cleaning processes, adapting the system to new requirements and improving energy efficiency. In the global service network of the equipment manufacturer with its locations and agencies, more than 125 customer service employees take care of around 5,000 installed systems.
Individually combinable services
Regular maintenance is key to ensuring consistently high process quality and system availability. To meet the wide-ranging requirements and wishes of equipment users, regular service agreements can be tailored to respective needs. In this way, maintenance can be carried out during a "controlled production downtime" when it suits and at minimized cost.
If a malfunction needs to be rectified quickly, Ecoclean customer service is available 24 hours a day, seven days a week. Remote service enables experts with in-depth process and system knowledge to access equipment remotely, analyse the cause and help solve the problem at a time arranged with the user. Of course, faults can only be rectified fast if the equipment user has the necessary spare and wear parts in stock. For this reason, the customer service staff also recommend which spare parts should be procured for the respective system. If worst comes to worst, they make sure that the required spare and wear parts are shipped quickly anywhere in the world.
Regular maintenance is key to high process stability and equipment availability, as well as preservation of a system's value. Regular service agreements tailored to the individual situation and requirements of the equipment user ensure optimal reliability at affordable costs.
New service app for fast and efficient communication
The new service app for IOS and Android will be available from January 2020 and permit two-way exchange between equipment users and Ecoclean customer service employees via video call and chat functions. The information and instructions required for troubleshooting or system maintenance can be transmitted directly by smartphone. Using the phone's camera, helpdesk employees can follow the work closely and intervene immediately if something goes "wrong." The normal phone and chat function can be used to answer questions immediately or to clarify instructions. This state-of-the-art form of service support minimizes the need for long and costly trips. It not only reduces equipment downtimes but also CO2 emissions.