November 17, 2021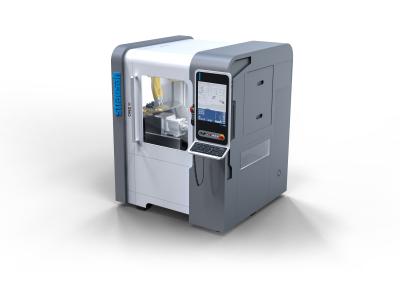 Strausak, a leading machine tool manufacturer based in Biel, Switzerland, extends its global position in the field of multi‐axis CNC grinding by launching the brand‐new model ONE 5‐axis flexible tool & cutter grinding machine with Numroto tool design software for the grinding of rotary and stationary cuƫtng tools in small and large batch production, for custom cuƫting tools as well as for resharpening.
Scalable:
This model has been designed so that any options can be upgraded and retrofitted at any time during the life of the machine.
Thermal stability and Cpk process capability index:
The thermal stability is exceptionally high due to an innovative machine design and a rigid 5‐axis configuration. Field tests have demonstrated an unusually high Cpk process capability. This is of particular importance when grinding short‐run custom tooling where accuracy and "first‐tool‐good" are critical.
Linear motors:
Linear motion technology is included in this machine which ensures outstanding surface finishes both on radius and other primary reliefs as well as flute finish. Linear motors also reduce the footprint of the machine.
Synchronous grinding spindle:
The highly efficient synchronous spindle, running at max. 40% power draw or less, does not release any heat into the machine or into the grinding process. This greatly helps with a consistent grinding process and keeping the thermal stability.
Numroto software:
This software platform offers the user high‐performance tool design and intuitive programming for an unlimited range of applications.
Footprint:
This machine presents the smallest possible footprint among any tool grinder with a 32 mm (1.1/4") capacity, without any compromise in rigidity, sturdiness and power for production grinding.
Strausak produces scalable and modular grinding equipment:
Any option can be retrofitted on site after delivery to help the owner to stay competitive in a dynamic and unpredictable environment. These are some of these scalable options:
Upgrade to 32 hp synchronous grinding spindle
Upgrade to 8‐position or 12‐position wheel changer
Upgrade to 8‐position collet sleeve changer
Pick‐and‐place loader with Rollomatic cassette systems
High‐speed Staubli robot with Rollomatic cassette systems
Automatic cassette magazine to extend the autonomous production grinding
Wide range of collets and adjustable clamping systems
V‐block shank guidance
Retractable tool support, traveling steady rest, Arobotec steady rest
Manual and automatic tailstock
High‐speed spindle with 3‐position automatic grinding pin changer
Onboard wheel dressing
Automatic wheel sticking
Included in the machine are some of the following opƟons:
4‐position automatic wheel changer
Tool probing
Wheel probing
Quick‐change collet system
Ergonomic design of control panel with verƟcal height adjustment
Additional Products from Strausak Inc.