November 13, 2013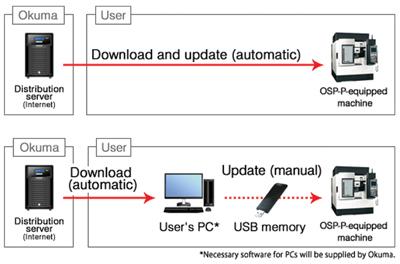 Okuma America Corp. offers OSP Virus Protection System (OSP-VPS) that embeds a virus scanning application programming interface (VSAPI) from Trend Micro for Okuma OSP-P controls (OSP-P300/P200A/P200/P20) to prevent infection by viruses from networks or USB flash drives.
Features of Okuma's OSP-VPS include:
Reliability-Before virus pattern file is distributed and the search engines are updated, operations are verified in advance by Okuma to prevent CNC software detection errors.
Maintainability-The system issues an alarm (D) when a virus is detected. On the display screen, operators can easily check the corrective actions taken.
Safety-Virus scans are performed after completion of automatic and MDI operations to prevent slowing of screen responses due to scheduled virus scans.
Usability-Pattern files and search engine updates can be done either manually via the operator's PC or automatically via the internet. The option to update through the operator's PC or USB memory can be used for machines not connected to a LAN or those on a closed LAN.
Related Glossary Terms
computer numerical control ( CNC)


computer numerical control ( CNC)

Microprocessor-based controller dedicated to a machine tool that permits the creation or modification of parts. Programmed numerical control activates the machine's servos and spindle drives and controls the various machining operations. See DNC, direct numerical control; NC, numerical control.

flash


flash

Thin web or film of metal on a casting that occurs at die partings and around air vents and movable cores. This excess metal is due to necessary working and operating clearances in a die. Flash also is the excess material squeezed out of the cavity as a compression mold closes or as pressure is applied to the cavity.