October 27, 2016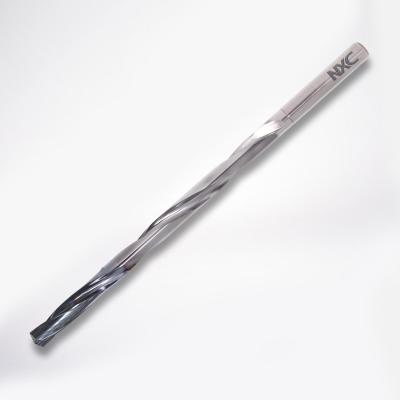 PCT's NXC series is engineered specifically for nickel-based drilling applications. The tool's design features a double- margin geometry, coolant holes and a slow helix to provide you with advanced chip evacuation and a stronger cutting edge.
The drills include a 45° protective corner chamfer, for increased cutting edge protection and longer tool life. The NXC series is coated with SisNa for increased wear resistance in high-speed drilling operations.
Related Glossary Terms
coolant


coolant

Fluid that reduces temperature buildup at the tool/workpiece interface during machining. Normally takes the form of a liquid such as soluble or chemical mixtures (semisynthetic, synthetic) but can be pressurized air or other gas. Because of water's ability to absorb great quantities of heat, it is widely used as a coolant and vehicle for various cutting compounds, with the water-to-compound ratio varying with the machining task. See cutting fluid; semisynthetic cutting fluid; soluble-oil cutting fluid; synthetic cutting fluid.

wear resistance


wear resistance

Ability of the tool to withstand stresses that cause it to wear during cutting; an attribute linked to alloy composition, base material, thermal conditions, type of tooling and operation and other variables.