July 01, 2011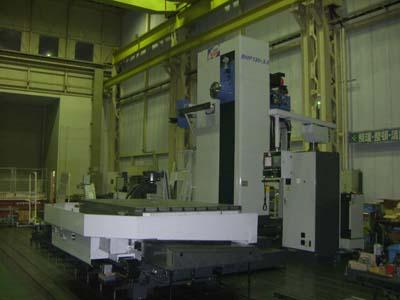 The new Nissin HBM BHP130-3.5 Series Horizontal Boring and Milling Machine from SNK America Inc. is rigidly designed for accurate and tough, prolonged cutting.
The heavy cast iron construction of the HBM BHP130-3.5 is complemented by the scale feedback of the worm and wheel. Large worktables, featuring nine T-slots, simplify work fixturing. The HBM BHP130-3.5's extra-wide solid boxways, precision finished using SNK's "Mirror Surface Finish" technology, easily accommodate the largest parts. Oversized ballscrews on all linear axes provide consistent precise positioning in the most demanding machining conditions. The combination of a robust design, thermal compensation and scales on axes results in high accuracy.
The HBM 130 Series' high-powered boring spindle (5.1" diameter) performs at speeds from 5 to 3,500 rpm and travels within a 7.08" milling spindle to provide a full 90.5" stroke. A built-in rotary table provides a fifth axis of operation, and positioning control within 0.001 degree.
Further enhancing precision, Thermal Growth Sensors are positioned around the spindle casting and bearing. These sensors continually read temperatures (withinµm) in five areas — more than most competitor machines. The additional sensors reduce the risk of false readings, and ensure accurate compensation.
The table size of the BHP -3.5 model is 70.8" x 98.4" with a maximum load capacity of 44,000 lbs. Strokes are 138" (X-axis), 98" (Y-axis), 63" (Z-axis) and 27.5" (W-axis). X, Y, Z and B-axis scale feedback is included as standard. The 60-tool ATC features a pneumatic pedal for ease in loading and unloading tools. All SNK Nissin HBM machines are equipped with Fanuc 16iM CNC controls.