June 30, 2021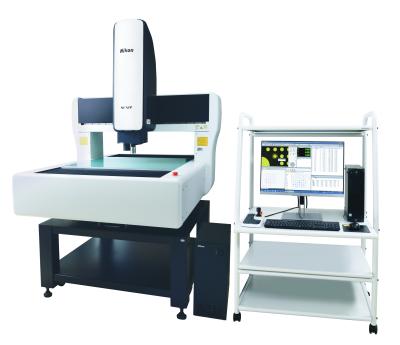 Two new models have now been added to Nikon Metrology's latest NEXIV S-range of CNC video measuring systems suitable for in-line, automated dimensional measurement tasks.
The CNC video measurement system "NEXIV" can automatically measure the dimensions of component features using Nikon's world renowned optical and image processing technology. By analyzing the captured image of a component, detecting feature edges at high speed, both accurately and with repeatably, it is possible to quickly measure components with simple and complex features.
With the growth in demand for measuring smaller components with higher performance, and the huge increase in the number of electronic components installed in automobiles, there is a greater need for video measuring systems to measure more components at higher speeds in automated production lines.
The "NEXIV VMZ-S" series has realized this increased throughput by maintaining and enhancing the performance of the previous model, the "NEXIV VMZ-R" series. In November 2020, Nikon released the first in the line-up of new VMZ-S systems, the "VMZ-S3020", which is part of the fourth generation of the "NEXIV" series. The "VMZ-S4540" and "VMZ-S6555" now join and expand this line-up and are perfect solutions for medium and large components or for loading multiple components.
Now that the full line-up of "NEXIV VMZ-S" series is available it is possible to select the most suitable machine according to a customer's applications and installation environment. In addition, by utilizing the "Remote Control SDK" software (optional), multiple "NEXIV" systems can be fully integrated into the production line and systems can be accessed and operated remotely.
1. Improvement of component Throughput
The NEXIV systems obtain the highest level of measurement accuracy using an exceptional stage featuring high-precision linear encoders. The "NEXIV VMZ-S" series is capable of capturing and processing images at higher speeds than its predecessor the "NEXIV VMZ-R" series. This has made it possible to reduce the component measurement cycle times without compromise in accuracy or reproducibility.
2. High Quality Images and Accurate Measurement Data
Nikon has designed an optimized optical system to deliver high quality images and accurate measurement data from within the field of view. With a movable LED ring light and an 8-segment LED illumination, it is possible to resolve and capture the edges of complex shapes. In addition, a high-speed laser, scanning at 1000 points/sec can acquire the cross-sectional profile across a surface and evaluate the relative heights. This meets the surface quality and feature measurement needs across a wide variety of samples.
3. Advanced Usability
The measurement software environment of "AutoMeasure" realizes high accuracy, high speed, and delivers simple measurement functions. A large library of valuable tools is available to use in a user-friendly GUI. For simple components, a support function will automate part of the measurement programming process.
The joystick unit used to move the stage and measurement head has also been redesigned for even greater ease of use for the operator.
4. Control Multiple "NEXIV" Systems Remotely Using "Remote Control SDK"
Up to 10 "NEXIV" systems can be controlled remotely by using "Remote Control SDK" (optional), enabling centralized management and distribution of measurement programs and results all from one place. By controlling "NEXIV" and measurement programs from a remote location away from the production line, such as a control room or office, manpower can be streamlined, and productivity improved.
5. Realizing Automatic Component Loading and Measurement by Integrating "NEXIV" with an Automated Carrier System.
With the increasing demand for full automation of the production line especially within the semiconductor industry, the need for automated measurement solution is also increasing. By combining the "NEXIV VMZ-S" series with in-house or 3rd party automatic wafer loader systems, the process of loading wafers and feature measurement can be efficiently automated.
Related Glossary Terms
computer numerical control ( CNC)


computer numerical control ( CNC)

Microprocessor-based controller dedicated to a machine tool that permits the creation or modification of parts. Programmed numerical control activates the machine's servos and spindle drives and controls the various machining operations. See DNC, direct numerical control; NC, numerical control.