September 25, 2017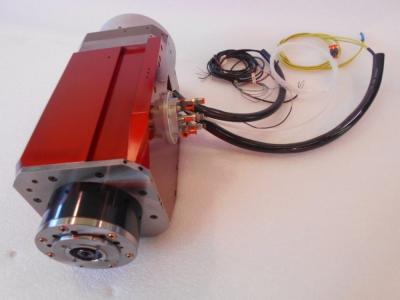 GTI Spindle Technology says spindle repair and rebuild is the heart of what the company does, and it prides itself on being able to handle any spindle that comes through the door. All spindles can be repaired, though the associated cost for some can eclipse that of a brand-new spindle. When this happens, GTI Spindle Technology turns to Peron Spindle for a replacement.
GTI is the exclusive North American reseller for Peron Spindle and the companies have been working together since 2013. GTI sought a relationship with Peron because of its diverse product line and complete spindle knowledge, as well as its high standard of quality craftsmanship.
Peron spindles feature heavily in the aerospace, automotive and OEM sectors where GTI specializes. Peron is known for high-frequency ID grinding spindles utilized in this sector and this type of spindle plays a critical production role for many of GTI's customers. By providing Peron replacement spindles, GTI gets customers back up and running with minimal downtime.
Should customers have an obsolete spindle and replacements are no longer manufactured, GTI and Peron have you covered. Using your existing spindle, Peron will reverse engineer a completely new spindle, saving customers time and money having to retrofit or replace machinery. Peron also does not require a set production run to manufacture spindles, enabling them to fabricate one-off spindles.
The relationship between GTI and Peron Spindle has saved GTI customers thousands. Here is one such example. As with any customer, GTI has to understand the customer's situation: its needs versus wants, its problems and most of all have the customer trust GTI's ability to address these issues. GTI has a spindle design tech that has worked with one such company for more than 30 years.
This company has 30-plus machines with GTI repaired spindles. Each machine has a grind spindle and a dresser spindle; Peron has built duplicate replacements for both types of spindles. To maintain production, the company have always maintained a supply of spare spindles. Spindle life is far from a finite number and it can vary from a few weeks to as much as 2 years. A spindle can always be repaired, it is just a matter of making this cost-effective. Some companies will purchase new spindles when the repair cost is more than 50 percent of a new replacement, while others will allow repair spindles cost to go as high as 75 percent before replacing.
As repair cost for these spindles increased due to age and other factors, GTI took the initiative to discuss replacing some of the higher cost repairs with new spindles. GTI's knowledge of the spindles comes from the many repairs we have done, and its engineering expertise allowed GTI to approach Peron with spindle specifications for a design that would require no changes to the machines. In going to Peron with specifications that would make the new spindle a direct replacement and getting a quote for replacing those high-cost repairs, GTI was in a position to present a clear cost-effective proposal.
In this case, GTI did an analysis of some of the high-cost spindle repairs to determine which spindles should be replaced. Not only were the most recent cost reviewed, but several years of spindle repair history was taken into consideration. Spindles that had a long history of expensive repairs were candidates for replacement as opposed to a spindle that had only a recent one time high cost repair.
Based on the cost of a new replacement spindle, a dollar figure was assigned that made a spindle repair questionable. GTI provided a list of spindles that fit this criterion and suggested a quantity of spindles to be replaced, as well as a cost justification for the replacement. The three main factors to be considered for replacement were a direct replacement spindle, cost of repairs versus new spindles and lost production. Therefore, the cost justification was based on new spindle cost, old spindle repair cost and lost production due to spare spindles not being available.
A total of four new spindles were purchased and are in use, manufacturing product alongside the original spindles. Additional new spindles are to be considered as the older spindles become too expensive to repair; some of these spindles are over 25 years old.
Related Glossary Terms
grinding


grinding

Machining operation in which material is removed from the workpiece by a powered abrasive wheel, stone, belt, paste, sheet, compound, slurry, etc. Takes various forms: surface grinding (creates flat and/or squared surfaces); cylindrical grinding (for external cylindrical and tapered shapes, fillets, undercuts, etc.); centerless grinding; chamfering; thread and form grinding; tool and cutter grinding; offhand grinding; lapping and polishing (grinding with extremely fine grits to create ultrasmooth surfaces); honing; and disc grinding.

inner diameter ( ID)


inner diameter ( ID)

Dimension that defines the inside diameter of a cavity or hole. See OD, outer diameter.