July 01,2015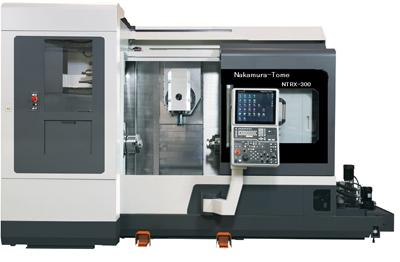 Methods Machine Tools Inc. has introduced the new Nakamura-Tome NTRX-300, a multitasking turning center featuring complete parts machining in one operation, with a built-in load/unload automation system and advanced operator recognition management software. The NTRX-300 features true opposing twin spindles; an 8" A2-6 25 HP or a 10" A2-8 30 HP. The machine also features a robust 25 HP tool spindle with 12,000 RPM and full 5-Axis capabilities, with a Fanuc 31I A5 Control and offers a large machining area for application versatility. The NTRX-300 can machine a 10" square on the face of a part, with no C-Axis rotation required due to X-Axis capability of 5" (125mm) below center travel and a Y-Axis capability of 10" (250mm).
Taking up a compact footprint of only 104 sq./ft. (9.66 sq. meters) of floor space and weighing in at a hefty 37,480 lbs. (17,000 kg) for maximum rigidity, the NTRX-300 is available in two models; 8" (203mm) chucks with 2.5" (63.5mm) bar capacity or 10" (250mm) chucks with 3.15" (80mm) bar capacity. The NTRX-300 is designed with a long 53.15" (1,350mm) distance between spindles to eliminate any interference of tooling during multitasking. The machine has a standard 40 tool ATC and is available with options for 80 and 120 tool ATC's.
The machine has a unique bed design with a vertical column structure mounted on a horizontal machine bed for superb rigidity and thermal stability. A uniform load applied over the machine bed during slide movement ensures exceptional stability. The compact design also allows easy reach of the spindle center and a versatile operation panel ensures optimum comfort for the operator. The high-performance automation system is equipped with loading and unloading grippers at the ATC magazine.
"The NTRX-300 offers state-of-the-art multitasking, automation and software all in a compact, heavy-duty machine," said Richard Parenteau, Director of Application Development/Nakamura-Tome at Methods Machine Tools.
The NTRX-300 features an advanced graphic user interface for ease of operation on a large 19-inch Color LCD Monitor. The new Nakamura-Tome (NT) Smart X Operation Software (using Windows v. 8.1), offers an Operation Level Management Function to view operator clearance level; Productivity Monitor Function that shows the status, productivity graph and capacity utilization of the machine, and a Loading Monitor Function that offers detailed load information. NT setting screen commands and buttons are all integrated into one screen, ensuring easy operation. The NT Smart X Screen enables an operator to view the NC program, while watching 3D interface check, or look at CNC coordinates while watching the machining area through a video camera.
In addition, the NTRX-300 offers an NT Collision Guard feature to avoid machine collision and an air bag function to minimize damage in the event of a collision. Voice guidance, production management and 3D collision check are all furnished standard.
CAMplete TruePath Turn/Mill software is also standard on the Nakamura-Tome NTRX-300. CAMplete Turn/Mill software is an integrated suite of G-Code editing, optimization, analysis and verification tools, enabling a full range of turn/mill functions.