March 13, 2013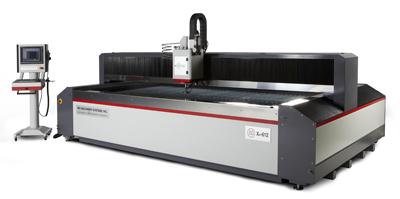 MC Machinery Systems Inc. introduces the fifth generation MWX4 machine. This machine combines speed and precision for shops looking for accuracy and reliability. With the MWX4, Mitsubishi and MC Machinery introduce the new Taper Control System. This is a servo motor-driven system with greater A Axis tilt angle and unlimited rotating angle C Axis to allow for straighter parts in thicker material.
The MWX4 features the Mitsubishi M730 CNC controller with 3-Axis joystick positioning and full keyboard, and a standard Garnet Removal System. Metamation Software is included with True-Shape Nesting and CAD/CAM, and a submerged cutting system is built into the tank's design.
Positioning speed is 687 ipm (22.022 m per min.), and the machine features a pressurized abrasive hopper with 670-lb. capacity. The adjustable slat table is located by slots, and the height is adjusted by the indicated flat bar.
The MWX4 machines are available in multiple sizes on the X4-612, pictured here, dimensions are as follows: travel distances are 72" by 144" by 8" (1829mm by 3658mm by 200mm), and it will hold a maximum workpiece size of 82" by 153" by 8" (2083mm by 3886 by 200mm). The pump is available in 60 horsepower and 90,000 psi., standard and 125 horsepower at 125,000 psi.
"The MWX4 represents a dramatic step forward in accuracy and precision for waterjet," says Steve Szczesniak, National Product Manager. "It closes all of the gaps. If speed is desired, it's one of the fastest. If precision is needed for the cut, it's one of the most accurate. It truly is the best of both worlds and can compete with most conventional machining methods for production to accuracy."