February 12, 2012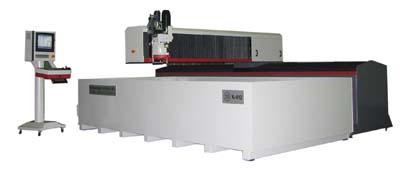 Mitsubishi broadens its Supply Chain Offering with the introduction of an entry-level Waterjet machine, the MWX3. This new machine is ideal for production environments and customers new to waterjet. Its solid base construction and cantilever head design make it both reliable and affordable.
The Mitsubishi 720 CNC control delivers advanced programming capabilities. The unit is controlled on a 15-inch waterproof screen, with improved graphics and NC design to simplify operation. Easy-to-use menu and help functions guide the operator through both programming and workpiece setup.
MWX3 comes standard with a high pressure S-50 KMT pump, which provides 60,000 PSI of water traveling up to MACH 2 with 1.09 GPM of water consumption through a maximum orifice size of 0.013". The reciprocating hydraulic piston to ceramic water piston ratio is 20:1, pushing the water into an accumulator that maintains a smooth even flow to the cutting nozzle.
Related Glossary Terms
computer numerical control ( CNC)


computer numerical control ( CNC)

Microprocessor-based controller dedicated to a machine tool that permits the creation or modification of parts. Programmed numerical control activates the machine's servos and spindle drives and controls the various machining operations. See DNC, direct numerical control; NC, numerical control.

numerical control ( NC)


numerical control ( NC)

Any controlled equipment that allows an operator to program its movement by entering a series of coded numbers and symbols. See CNC, computer numerical control; DNC, direct numerical control.