January 12,2012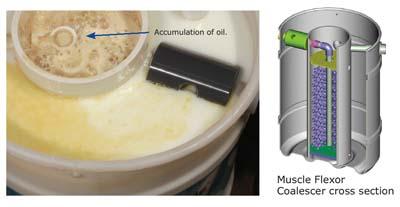 Zebra Skimmers Corp. announces its new Muscle Flexor Coalescer design.
"Our customers routinely provide us their 'wish list' in skimming equipment, particularly for coalescing technology. It is with this feedback that we have taken the Muscle Coalescer to a new level, incorporating containment of the separated tramp oil within the coalescing tank for coolant-free discharge," remarks Meg Grant, Channel Marketing and Sales Manager of Zebra Skimmers Corp. "Thus the Muscle Flexor was born. Its patents-pending surface venturi redirects the separated tramp oil into a coalescing cylinder so its accumulation is centralized and contained. Other advantages of this process is built-in aeration, as well as a cleaner coolant surface which conveniently allows for concentration and other chemical parameters to be monitored."
Benefits of the Muscle Flexor include:
Centrally contained, concentrated tramp oil
Virtually coolant-free tramp oil discharge
Built-in aeration to discourage bacterial growth
Cleaner coolant surface to monitor concentration and other chemical parameters
Related Glossary Terms
coolant


coolant

Fluid that reduces temperature buildup at the tool/workpiece interface during machining. Normally takes the form of a liquid such as soluble or chemical mixtures (semisynthetic, synthetic) but can be pressurized air or other gas. Because of water's ability to absorb great quantities of heat, it is widely used as a coolant and vehicle for various cutting compounds, with the water-to-compound ratio varying with the machining task. See cutting fluid; semisynthetic cutting fluid; soluble-oil cutting fluid; synthetic cutting fluid.

tramp oil


tramp oil

Oil that is present in a metalworking fluid mix that is not from the product concentrate. The usual sources are machine tool lubrication system leaks.