April 29, 2016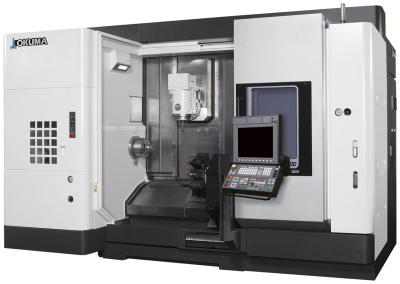 Okuma's MULTUS U series general-purpose multitask CNC lathes are designed to reduce setup time, improve accuracy and keep noncutting time to a minimum. Built with Okuma's heavy-duty construction, the MULTUS U series lathes provide a sturdy platform for long-term rigidity and accuracy. They are excellent for machining process-intensive parts, such as those in aerospace, automotive, oil/energy, medical and construction, according to the company.
The series includes two machine sizes: the MULTUS U3000 (maximum diameter of 25.6" and bed length of 39.4") and the MULTUS U4000 (maximum diameter of 27.55" and bed length of 59.05"). The MULTUS U series CNC lathes are equipped with a comprehensive package of Okuma's Intelligent Technologies (Thermo-Friendly Concept, Collision Avoidance System and Machining Navi) and a variety of efficiency features which make them "Intelligent Multitasking Machines." The newest versions of these machines come equipped with the OSP-P300 control with a 19" monitor and the new OSP suite and ECO suite applications.
Related Glossary Terms
computer numerical control ( CNC)


computer numerical control ( CNC)

Microprocessor-based controller dedicated to a machine tool that permits the creation or modification of parts. Programmed numerical control activates the machine's servos and spindle drives and controls the various machining operations. See DNC, direct numerical control; NC, numerical control.

multifunction machines ( multitasking machines)


multifunction machines ( multitasking machines)

Machines and machining/turning centers capable of performing a variety of tasks, including milling, drilling, grinding boring, turning and cutoff, usually in just one setup.