August 01, 2011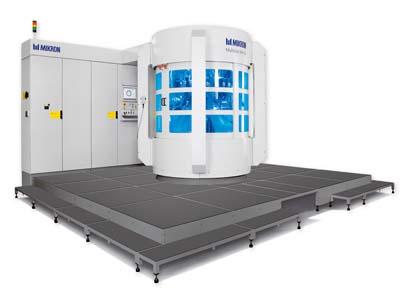 The three main factors which appeal to users of the new MIKRON Multistar NX-24 Rotary Machining System from an economical perspective are outstanding productivity, full flexibility and highest precision. With this the machine is a player in the very top league. With its number of cycling steps, it almost achieves the productivity of fully mechanical machines. All axis are programmable, which saves significantly down-time when changing over the machine from one part to the other.
Mikron SA Agno still offers the productive and fast Rotary Machining System amongst its line of Transfer Machines. It achieves up to 150 cycle steps per minute and thus can produce up to 520 parts per minute when equipped with four cycles per machine. The machine is designed for high output, large volume production but, because it is fully mechanically controlled, change-over can take time.
The new CNC-controlled Multistar NX-24 increases flexibility significantly and this with only slight reduction in the output capability. Therefore it is especially suitable where different types of work pieces must be produced in quantities from a few hundred up to many thousands of parts, within accuracies in the hundredths of a millimeter range. The machine is of great interest to industries such as the automotive, watches, medical devices, climate control systems, etc.
All axis are programmable and the control unit's clearly laid out operator interface simplifies rapid programming and quick product changes. However, the machine still has a range of additional unique features, which are attracting considerable attention from specialists in this field. For example, the Multistar NX-24 is equipped with 24 workstations and up to 44 machining units and to 60 axis. All axis work simultaneously, which is how the machine achieves its extraordinarily high output. Work pieces are machined completely. Complete machining also includes processes like deep hole drilling, turning over the work piece (repositioning/reclamping), in-process measuring and compensation, as well as complete and perfect deburring. This is how the machine produces, for example, 8.5 injection nozzles per minute for the automotive industry.
Because all axis are CNC-programmable, changeover is done mainly by software programming. Compared with machines with mechanical control, this means significant time saving. With different types of work pieces, with maximum diameters of 35mm and maximum lengths of up to 65mm, the Multistar NX-24 achieves costs per part which are economically highly attractive. Mikron is known for high precision machining operations. For example, the machine can produce special watch screws with M 0.8 threads and corresponding surface finishes without difficulty.
Machining happens simultaneously on the 24 workstations. Each workstation can machine two sides simultaneously: from above and below, from above and from one side or from below and from one side. The work piece can also be turned over also from square to round section. On one hand, the machine's compact design means that temperature has less an influence in the machining area. On the other hand, the machine's very sturdy construction guards against the effect of vibrations.
Turning the rotary table through 15 degrees to the next work station occurs in 0.6 seconds. Indexing pins then lock the table with an accuracy of +/- 2.5µm for the next machining operation. The table can be equipped with different clamping collets. The work piece blank is fed to the first workstation and clamped in the collet; the completely machined work piece is ejected in the last work station. Hence there are 22 work stations for the machining operation.
The machine can be equipped with different clamping collets, which can be driven from above or below the table. During machining in the individual stations, the collet is locked by the C-axis spindle or with a mechanical index pin. Collet drives for turning work at up to 7,500 rpm rotate with a precision of +/-0.005 millimeters. And all this during millions of indexing cycles. Turning is possible on work pieces with diameters of up to 15mm. However, collets that are fix during machining can accept work pieces with diameters of up to 35mm. Collets that are CNC-programmable, which can rotate and interpolate through 360°, can hold work pieces up to 30mm in diameter.
The CNC-programmed axis indexes in 0.1 seconds through 180 degrees and are used for four-axis milling. Depending on requirements, individual stations can be equipped with different machining units. For example, the CNC-controlled triple axis machining unit can produce a number of configured drillings, as well as perform milling and deburring operations. Together with the C-axis, around which the collet chucks are rotated, four-axis simultaneous machining is possible from above as well as from a horizontal direction and also inclined.
Fitting a CNC-controlled twin axis machining unit provides, together with the C-axis, triple axis simultaneous machining. For example, milling operations and drilling, from above or from a horizontal direction. Together with the C-axis, it can also perform outside and internal turning operations. For small drills and mills, and for deburring the work piece, high speed spindles running at up to 32,000 rpm are available. The machine can also be fitted with a CNC deep hole drilling unit with moving guide bushing. The deep hole drilling unit works from a horizontal direction or inclined from above, both with or without a guide bushing. The high pressure cooling unit can be programmed so that the coolant is fed with increasing pressure as the depth of the drilling increases. The maximum pressure is 120 bar; this ensures that all chips are flushed out of the hole. For high precision turning, including eccentric recesses in bores, the recess unit is an excellent solution.
For many machining operations, the capabilities of the single axis machining unit suffice. It offers an excellent price/performance ratio and can be numerical controlled in horizontal, vertical or inclined position. The control unit's operator interface has self-explanatory graphics. On one hand, this permits the operator a meaningful overview of the individual machining stations and on the other it simplifies the task of programming the individual processes by directly using the graphics. A complete range of machining operations can be programmed and executed with up to four-axis interpolation. For example, milling, turning, reaming, drilling, deep hole drilling, tapping, outer thread turning, profile recessing, precision deburring, washing work pieces and minor assembly tasks. The possibility to carry out tasks such as 3D deburring directly on the machine means significant cost savings. Rework, as is often necessary when complex work pieces are deburred electro-chemically, has always a significant impact on costs. However, complete machining also includes functions such as measuring and analyzing the machining results.
By means of continuous measurements, the machine control unit determines in advance when the machining results are approaching tolerance limits, maybe through tool wear or temperature changes. Based on these results, the control unit detects deviations in good time and compensates these automatically. Defective components are detected automatically during the machining process and separated at the unloading station. The software produces statistical data continuously from the measurements made, analyzes them and informs the machine operator of any deviations from the normal operating conditions.
This in-process, comprehensive control is important for example when producing components for the automotive industry, which will accept only a few defective components per million work pieces. For example, the Multistar NX-24 can produce injection nozzles completely on a single machine, whereas their production in the past usually required two machines. The control unit generates a predictable machine servicing program, based on machine data that is computed and analyzed continuously. Maintenance and servicing activities can then be scheduled for dates when the production flow will be least disturbed. Remote diagnosis and efficient support from Mikron SA Agno's experienced technicians reduce the time needed for servicing tasks.
Additional Products from Mikron Tool