October 02,2017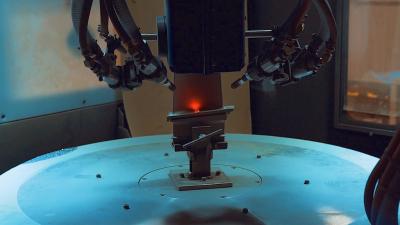 Guyson's new multiple-axis CNC grit blaster was designed for a prep prior to coat application in the aerospace industry. The heart of this system is based around the blast manipulation with 4-axis controls directed by a Siemens CNC system and roof-mounted 2-axis cartesian gantry with table positional capability of 0° to 360°.
The transfer cart brings the parts to the blast enclosure where 3-axis traverse is mounted with four suction guns that continuously blast's the part. The cabinet is equipped with a single, vertical servo-driven spindle that serves as the 4th axis for the system when paired with the traverse. Maximum media delivery is ensured by a highly efficient gun design and metering system.
With such a complex and precise system safety was a top priority. Multiple strategically placed E-stop buttons are placed around the entire machine. Vertically mounted area scanner and two-sided safety cage to inhibit access to cart and door when in motion. Equipped with Allen-Bradley CR30 software programmable safety relay-based safety control.
Related Glossary Terms
computer numerical control ( CNC)


computer numerical control ( CNC)

Microprocessor-based controller dedicated to a machine tool that permits the creation or modification of parts. Programmed numerical control activates the machine's servos and spindle drives and controls the various machining operations. See DNC, direct numerical control; NC, numerical control.