December 13, 2013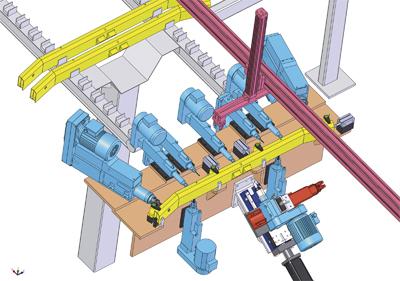 Bulky part machining can often become very difficult to integrate into a manufacturing process, when attempting to perform multiple operations on conventional CNC machines. Limited space or axis travel, one-sided spindle or tool accessibility are common restrictions when trying to design and fit multiple tool requirements onto a rigid machine concept. In addition, cycle time demands and accessibility issues from all sides and angles can make a single tool, 3-axis CNC machine option a losing proposition.
One new solution involves compact and self-contained single tool Multi-Master flex shaft machining units from SUHNER. These units are modular in design, which means they can be positioned in any direction around a workpiece. In most cases, all operations can be performed in one cycle, thereby reducing the overall machining cycle time to a minimum. Since all tooling modules work simultaneously, the cycle time is basically determined by the longest single machining operation and not the addition of all the tools working together. There are virtually no limitations to part size and the number of tools that are engaged at the same time, with this arrangement.
SUHNER offers a complete spindle program with optional feed systems ... pneumatic, hydraulic and CNC ... available in a quill feed or slide and spindle design. In combination with modern tooling technology, SUHNER Multi-Master machining units can achieve a high degree of performance and accuracy, when incorporated into a machine design. Solid carbide tools permit cutting speeds up to 300 m/min in aluminum, at feed rates of 0.5mm/rev. These rates result in very short cycle times and extended tool life.
Related Glossary Terms
computer numerical control ( CNC)


computer numerical control ( CNC)

Microprocessor-based controller dedicated to a machine tool that permits the creation or modification of parts. Programmed numerical control activates the machine's servos and spindle drives and controls the various machining operations. See DNC, direct numerical control; NC, numerical control.

feed


feed

Rate of change of position of the tool as a whole, relative to the workpiece while cutting.