April 12, 2012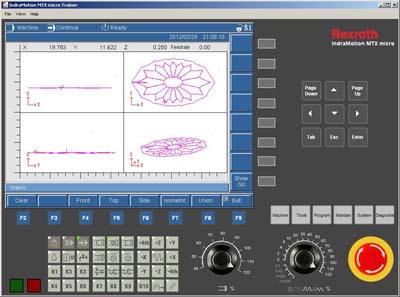 The IndraMotion MTX micro Trainer from Bosch Rexroth gives machine operators the ability to simulate, develop, test and transfer CNC programs from a personal computer without disrupting production. Available as a free download from www.boschrexroth-us.com/MTXmicro, this easy-to-use software package provides a machine-like representation of Rexroth's IndraMotion MTX micro CNC user interface.
Designed for tool operators, machine builders, instructors and students, the training software offers realistic operation and programming capabilities for milling, turning and drilling sequences, independent of any machine tool hardware. The program runs on Microsoft Windows XP or Windows 7 operating systems with no licensing required.
Part of the company's IndraMotion MTX platform, the MTX micro is Rexroth's low-cost compact CNC solution for standard machining applications. It consists of a compact HMI interface and a powerful multi-axis drive controller with performance CNC and PLC control.
The MTX micro Trainer can be used independently, or to support the development and optimization of an MTX micro CNC system control. Users can choose between pre-configured lathe and milling machine scenarios. The software includes features and simulation sequences drawn from Rexroth's in-depth experience developing robust CNC platforms.
Trainees can use this CNC trainer to set up and operate a wide range of functions, correct errors and test their skills on simulations — all without interrupting machine production. Users can practice configuring the tool list, plot tool movement in various views and develop greater familiarity and efficiency with CNC tools.
As a development resource, operators can use it to simulate sequences and to test and debug programs and fixes in a realistic environment, helping to streamline CNC program development offline.
CNC programs can also be imported, modified and exported after testing and fine-tuning. The sample milling and turning demo programs can be used to create workable CNC programs. Built-in help systems for operation and NC-functionality, g-codes and cycles are also available.
For those seeking to purchase a compact CNC system, the MTX micro Trainer is also useful for previewing the features and capabilities of Rexroth's IndraMotion MTX micro CNC platform.