September 01, 2014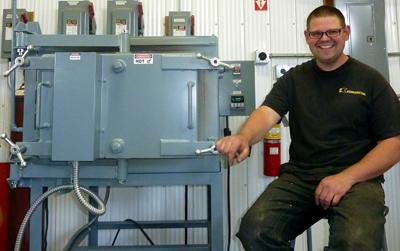 This July, Lucifer Furnaces provided a new Model 7GT-M24 Box Furnace to Quantum Machine Works Ltd. in Whitehorse, Yukon Territory, Canada. Quantum Machine Works is a manufacturer of core drilling machines and components for the mineral exploration industry, as well as a general job shop serving anyone who requires precise CNC machining, repair and design work.
Quantum's new 7GT-M24 furnace has working chamber dimensions of 12"H x 18"W x 24"L and heats to 2,100°F. Built with an angle iron frame and heavy gauge sheet steel continuously welded to form a gas tight shell capable of operation with a positive flow of inert atmosphere, this unit boasts 2.5" of insulating firebrick backed up with 2.5" mineral wool block. The 1 ¼" silicon-carbide hearth plate provides a strong flat working surface while protecting floor insulation.
Heating elements, mounted in easy-to-replace holders, are located on sides, door and back of the unit to provide uniform heat. Safety features onboard include a double pivot horizontal swing door which keeps the hot face away from the operator at all times, safety door microswitch to disengage power to elements when door is opened, and an over-temperature safety system to prevent against high temperature excursion.
Quantum Machine Works, located over 1500 miles from the nearest heat treating facility, sends the majority of its heat treating to a trusted, and reliable heat treater capable of handling large quantities; however the need for custom, specialized heat treating with quick turnaround is very real when the best possible scenario for "sending heat treating out" is more than a week and a half.
In the words of Production Manager, Duncan Tipton, "Having the ability to do quality in-house heat treating allows us to fill customer's needs promptly, often saving them thousands of dollars in lost time. We also gain a huge research and development edge by knowing the processes our products require to be properly heat treated before they go out to the production heat treater."
Related Glossary Terms
computer numerical control ( CNC)


computer numerical control ( CNC)

Microprocessor-based controller dedicated to a machine tool that permits the creation or modification of parts. Programmed numerical control activates the machine's servos and spindle drives and controls the various machining operations. See DNC, direct numerical control; NC, numerical control.

flat ( screw flat)


flat ( screw flat)

Flat surface machined into the shank of a cutting tool for enhanced holding of the tool.