May 12, 2021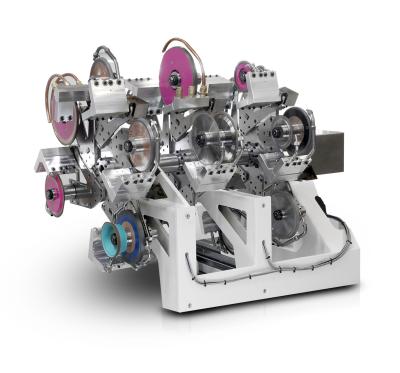 Rollomatic, a leading machine tool manufacturer based in Le Landeron, Switzerland, maintains its global leadership position in the field of 6-axis CNC tool grinding by highlighting the model 630XW3 with a 16-station wheel changer. This model is part of the GrindSmart® series of tool & cutter grinding machines with an axis configuration that incorporates 6 fully interpolated axes (3 rotary and 3 linear) and is unique in this industry. The machine also incorporates linear axis drive technology.
GrindSmart® 6-axis tool grinding machine with 16-station wheel and nozzle changer.
Highlights:
Simultaneous change of wheel packs and associated coolant manifolds with coolant nozzles.
World's smallest footprint of a 16-station wheel changer (only ads 30" to the width of the machine).
Tool unload/load happens simultaneously during wheel change to shorten cycle time.
Embedded intelligence to keep frequently used wheel packs in front to shorten cycle time.
The wheel arbors are HSK-type with a proprietary attachment design that guarantees less than .00005" TIR over the life of the grinding spindle.
Allows highest productivity in small-batch grinding of complex and high-performance cutting tools.
Enhanced autonomy.
Uses Rollomatic's VGPro desk top tool design program.
Machines are assembled under a lean manufacturing program.
Additional Products from Rollomatic