February 03, 2020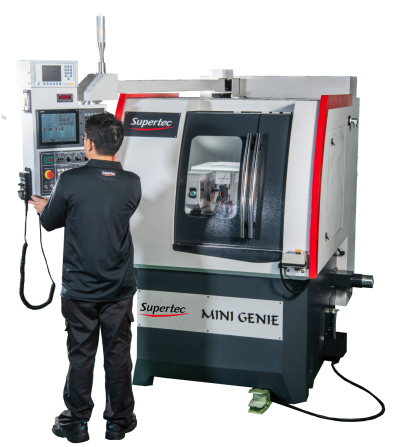 Supertec Machinery introduces the Mini Genie CNC cylindrical grinder to the North American market. The Mini Genie is designed for shops with limited floor space in mind. With a total footprint of only 78" x 78" (43 sq. ft.) and its high precision performance this grinder is ideal for any shop.
The Mini Genie has a grinding capacity of 9" diameter, and 8" between centers and a work load capacity of 44 lb. between centers and 11 lbs. chucked. With the Mitsubishi M80 control and Supertec's I-Grind conversational shop floor language the grinder is easy to learn and easy to program making it ideal for any shop.
The Mini Gene comes in two styles, a plunge model with the wheelhead set at 90 degrees and the angle head model with the wheehead set at 20 degrees. The angle head is ideal for faster stock removal and a finer surface finish on face and shoulder grinding applications. A Heidenhain 0.000002" linear scale is used for improved accuracy and repeatability with machine tolerances of 0.0001" or better attainable. Both machine axes utilize linear guideways for a smoother more accurate movement.
Some of the standard features of the Mini Genie include a full enclosure, infinitely variable workhead, coolant system with paper filter and magnetic separator, and a taper adjustable tailstock.