March 01, 2011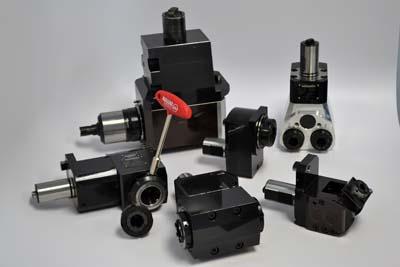 Lyndex-Nikken Inc. offers live tools for CNC lathes from Mimatic Tool Systems, with an initial focus on Mazak lathes. Designed and manufactured to Mazak specifications in Germany, Mimatic live tools enhance the performance of CNC lathes, according to the company. Mimatic live tool housings are machined from solid blocks of a special steel to achieve tight tolerances. Hardened and ground gears, precision ground spindle bearings and high performance seals result in high accuracy, rigidity, stability and durability in turning operations.
Currently, Lyndex-Nikken's Mimatic live tool line accommodates Mazak QTNexus QTS, SQT, Hyper Quadrex Series, Multiplex and Cyberturn machines. Mimatic static tooling is also available from Lyndex-Nikken for these Mazak models. All of these holders are available with Mimatic mi, a one-hand-operated modular quick-change system, to allow the user to preset tools and reduce machining downtime. Custom-made live tools can be engineered for specific applications. In the future, Lyndex-Nikken plans to carry additional Mimatic tooling for other leading builders.
Along with live tools for Mazak lathes, Lyndex-Nikken stocks a range of standardized live tools for Okuma, Mori Seiki, Nakamura-Tome, and other major builders, including those that utilize Sauter turrets. Lyndex-Nikken's live tool offering includes high-speed tooling, coolant feed thru tools, high pressure thru coolant, axial tools, radial tools, dual output radial tools and universal tools. Straight and offset units, modular quick-change systems and tapping quick-change holders are also available. Many models are lightweight and compact. In addition to Mimatic live tooling, Lyndex-Nikken carries a range of precision Mimatic Angle Heads for machining centers.
"Mimatic and Lyndex-Nikken share a commitment to providing quality products that maximize the capabilities of machine tools," stated Scott Irie, regional sales manager, Lyndex-Nikken. That is not all the companies share. Mimatic has recently moved its North American office to Mundelein, and is now located within Lyndex-Nikken's Illinois facility. "Working in close proximity will enable our companies to exchange and develop ideas that further advance the performance of machining centers and lathes," commented Irie.