October 07, 2016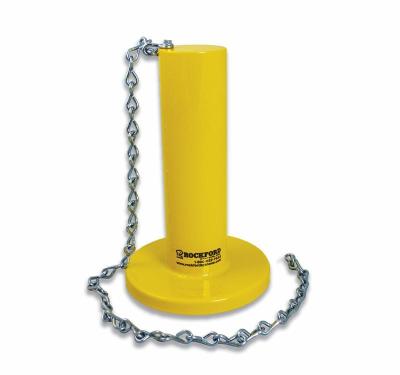 Vertical mills are essential cutting tools in machine shops used to remove material from the surface of metal workpieces. However, these tools present serious danger when an operator comes into contact with their high-speed rotating draw bars, resulting in injuries and costly OSHA fines.
To bring needed safety to the shop floor, Rockford Systems LLC has launched a new milling machine draw bar cover (part #DBC001) to protect vertical mill workers from rotating shafts 7 feet or less from the floor or working platform. It guards the turning draw bar with a non-rotating, smooth, welded-steel enclosure, secured firmly to the mill with a powerful ring magnet and safety anchor chain. Simple to install, the draw bar cover prevents clothing, hair or hands from being grabbed by the moving shaft.
According to Jason Swisher, Rockford Systems production manager, "Our new Draw Bar Cover features high-quality construction with smoothed welding seams and finished edges, designed to protect mill workers from hazardous rotating drawbars. It was engineered with input from machine makers and operators to ensure that it gets the job done right."
This product can be used on any vertical mill that has up to a 7" extrusion. It compliments the full line of Rockford Systems milling machine guards, shields and controls that protect thousands of workers everyday around the world.