March 22, 2021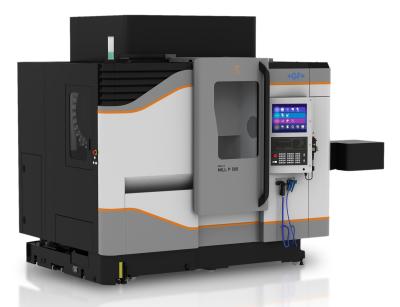 Targeting mold and die makers in the ICT/EC segments and medical device manufacturers as well as others, GF Machining Solutions has launched the new MILL P 500 3-axis vertical milling machine in North America. The MILL P 500 delivers unparalleled levels of precision, reliability over extended machining periods and exceptional productivity.
Thanks to its robust and thermostabilized polymer granite base platform, the MILL P 500 holds part tolerances to +/- 4 microns and maintains positioning accuracy over extended machining times, deviating no more than 5 microns during a 24-hour span. Paired with this machine positioning accuracy, an advanced 42,000-rpm, HSK-E40 Step-Tec spindle, as standard, gives shops a competitive advantage in terms of shorter time to market by reducing time- consuming, secondary manual polishing operations.
High-performance Step-Tec spindles are built for all milling operations from roughing to fine surface finishing. With advanced hybrid ball bearings and thermally robust hybrid cylindrical roller bearings, the spindles enable milling with extra-long tools while delivering aggressive material removal rates at high feed rates. GF Machining Solutions will also offer, as optional, the Step-Tec spindle in 24,000 and 36,000-rpm versions.
For maximum ROI, the MILL P 500 features fully integrated workpiece pallet changers, tool magazine expansions and more for extended uninterrupted production. To ease the integration of automation, the machine allows for automation from the back for seamlessly coupling with a System 3R WorkPartner 1+ (WPT1+) compact pallet changing robot or System 3R Transformer/Fanuc Automation Solutions.
With either disc or automatic tool tower, the MILL P 500 offers capacities of up to 60 tools via disk and up to 210 tools with the tower. Both systems also allow shops to load tools while the machine continues to run uninterrupted.
While the MILL P 500's compact footprint is ideal for the ICT/EC and medical manufacturing environments, its large axis ratio makes the machine equally well suited for mold and die makers supplying the packaging, automotive and consumer appliance industries, among others. Within these industries, die casting, high temperature forging molds and dies, cold forging dies and extrusion dies are all perfect applications for the MILL P 500. The machine delivers superior part surface finishes as well as extreme contour and position accuracies along with dimensional precision critical for the production of injection molding and stamping dies and sinker EDM electrodes.
Initially introduced with a Fanuc 35iB CNC, the MILL P 500 will soon come with a Heidenhain TCN640 control. This state-of-the-art hardware combined with diverse software packages allow for greater unattended operations with the MILL P 500, freeing operators to take on other tasks for added production value. Key control functions on the MILL P 500 include Econowatt, Intelligent Spindle Monitoring, Intelligent Thermal Control, Power Failure Protection, Intelligent Tool Measurement, and Operator Support System. Econowatt for example can save up to 50 percent on machine energy consumption, while Intelligent Spindle Monitoring and Intelligent Thermal Control contribute significantly to the machine's high precision.
Power Failure Protection coupled with Intelligent Tool Measurement ensure further process security while protecting tools and extending their working lives. To enhance overall machine productivity, the MILL P 500's Operator Support System works in tandem with several software tools, including GF Machining Solutions' rConnect.
rConnect is a digital services platform available for all GF Machining Solutions technologies. It is a modular system that includes a range of available services all backed by T.ViT-certified cybersecurity. rConnect Live Remote Assistance (LRA) makes it easy for shops to achieve the highest possible machine uptime by allowing GF's expert engineers to rapidly respond to service requests via audio, video chat and other tools.