August 22, 2023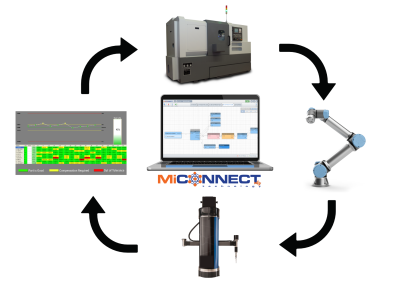 Programming for custom automation solutions and communication for CNC related processes has always been very challenging and machine-specific due to customized coding and unique rigid infrastructure. Well, Caron Engineering's new software innovation intends to make programming custom manufacturing applications that much simpler.
Introducing MiConnect Technology, a flexible and customizable application builder specifically designed for the CNC manufacturing environment. MiConnect makes it possible for our integration specialists to efficiently develop unique manufacturing applications for our customers without the need for custom coding.
From a simple operation of parsing a single piece of meaningful data to handling all inter-device communication across a fully automated cell, MiConnect can easily be configured for your desired process and flow. The graphical programming of the software makes it easy to tailor applications and adapt to changing requirements. And, with the continually growing inventory of pre-built drivers (CNC's, robots, barcode scanners, I/O, Modbus, files, SQL, REST API, etc.) and numerous building blocks of operations, it allows our integration specialists to seamlessly customize any application for the customer.
MiConnect Technology powers solutions such as, direct interfacing for automation systems to communicate with the CNC control, extracting any required information from the CNC, inputting external devices (such as RFID, barcode, files), reading and writing system parameters, parsing and extracting data, controlling human process interaction, minimizing operator decision making, and adding systemized securities. Perhaps you need to verify the operator has successfully loaded the correct tooling or to export probe data from a part program. Maybe you want to completely remove any operator interaction from a production cell and have it run lights out. MiConnect Technology is the solution.
Once designed and implemented by our integration specialists, this sophisticated technology allows manufacturers to control their processes by directing the user through the proper operational steps and has the fast capability of extracting any necessary data from the CNC. The inherent audit log records every step, action and data exchange which is logged with a date and time stamp. This data is available locally or via MTConnect and is valuable for quality control and process verification. The intelligible HMI is designed to guide the user through any required steps and confirm successful completion before advancing to the next step of the manufacturing process. Screens can be added to show messages and confirmations to better assist the operator through the interaction.
"MiConnect Technology was developed to streamline processes for an advanced manufacturing environment. The variety of CNC machines, automation systems, and useful data is unique to each manufacturer's operations. Prior to MiConnect, programming these devices to communicate and extracting unique datasets, or guiding and verifying operator processes required excessive coding time and customization. Furthermore, if the programs ever needed to be adjusted, it relied on the original programmer to make these corrections. In an ever-growing age of automation, MiConnect is the essential tool kit to build custom applications in a fraction of the time," said Rob Caron, PE, President of Caron Engineering.
Caron Engineering has a large network of qualified integration specialists to help build these custom solutions for their customers.
Related Glossary Terms
computer numerical control ( CNC)


computer numerical control ( CNC)

Microprocessor-based controller dedicated to a machine tool that permits the creation or modification of parts. Programmed numerical control activates the machine's servos and spindle drives and controls the various machining operations. See DNC, direct numerical control; NC, numerical control.

quality assurance ( quality control)


quality assurance ( quality control)

Terms denoting a formal program for monitoring product quality. The denotations are the same, but QC typically connotes a more traditional postmachining inspection system, while QA implies a more comprehensive approach, with emphasis on "total quality," broad quality principles, statistical process control and other statistical methods.