November 01,2010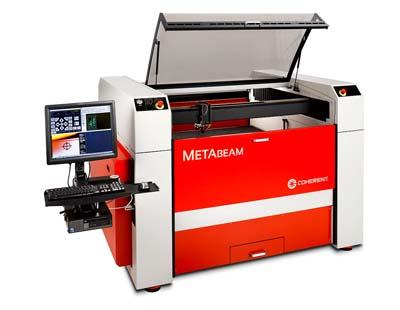 Coherent Inc. has expanded upon its family of compact, flexible Laser Machining Centers with the launch of its MetaBEAM, designed for processing metals but capable of addressing non-metal processing as well. Specifically, the MetaBEAM delivers high precision (0.001" accuracy) processing of metals with compact, sealed CO2 lasers without any sacrifice in speed. With the unique sealed CO2 laser source, you also get the lowest operating cost ($2 — $3/hour).
Fiber lasers, with similar operating costs, are scheduled to be integrated into this tool in CY 2011. The MetaBEAM Laser Machining Center integrates the machine frame, CNC controller, laser, beam-delivery system, drive system and laser cutting head all into one highly compact structure with a standard table size of 4'x4' (1.25m x 1.25m) and optional 4'x8' (1.25m x 2.5m) size.
In addition, it offers a cutting table design which minimizes parts tip-up. Switching materials or thickness can be done quickly with the MetaBEAM's unique focal axis with a capacitive sensor that accurately maintains the standoff distance from the work piece. The cutting head is protected from any damage by a magnetic breakaway system. The "building block" concept of the MetaBEAM enables easy addition of automation, including true machine vision to the standard system, allowing it to adapt to the users changing environment.