December 10, 2019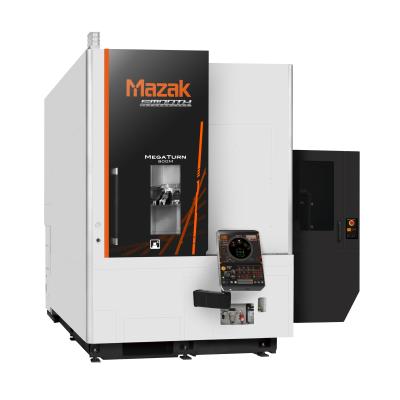 Mazak Corp.'s Mega Turn 900M Vertical Turning Center combines turning and secondary machining operations to efficiently cut large cast iron and steel workpieces, such as those commonly processed in the construction machinery, industrial machinery and jet engine manufacturing sectors.
When used on the machine, Mazak's Superflow system delivers high-pressure coolant directly to the cutting edge, creating small chips and efficiently evacuating them from the cut. The reduced heat and greater thermal stability provided by the system improves a tool's cutting action and allows for faster surface speeds and thus increased productivity and minimized tooling costs, especially in challenging applications where poorly controlled, stringy chips can scrap workpieces and cause unexpected tool failure.
In big part applications, the Mega Turn 900M accommodates a maximum workpiece size of 36.2" x 31.5" and utilizes Mazak's MX hybrid roller guide system to deliver levels of durability and reliability that result in long-term accuracy. The innovative way system reduces vibration, extends tool life, handles higher load capacities and eliminates tramp oil in the coolant by utilizing a greener grease-based lubrication system.
For heavy-duty machining, the machine employs a powerful, rigid 40-hp, 1,250-rpm integrated main drive motor/spindle that generates 2,696 ft.-lbs. of torque. Additionally, the machine carries maximum part loads of 6,614 lbs. (including the chuck).
Mazak designed the Mega Turn 900M with a 12-position drum turret for rapid tool indexing. The turret is rigidly clamped by 16.7 tons of force on a 12.99"-high index coupling, allowing for high performance machining and intermittent cutting. The machine delivers a rotary tool spindle speed of 4,000 rpm and 70.2 ft.-lbs. of torque. It also
removes material at a rate of 58.6 in.3/min., which is 1.4 times higher than comparable vertical turning lathes.
When workpiece applications require two machining operations, Mazak offers the Mega Turn 900M in both left-hand and right-hand spindle orientations, allowing shops to easily pair two machines together in a compact cell that conserves floor space. Mazak can also outfit the machine with an optional toolchanger magazine. This separate magazine can tool change long boring bars in and out of a designated tool pocket and allows for interference-free
cutting when necessary. Offered in magazine sizes of 12, 24 or 36 tool pockets for Capto C6 tooling and 10 tool pockets for Capto C8 tooling, the tool changer provides ample storage room for redundant tooling.
The machine comes standard with Mazak's Tool Eye, an automatic tool presetting system. By bringing the tool tip into contact with the Tool Eye, offset of tool nose position, tool measurement and data registration are done automatically to ensure accurate and fast part setup. The Tool Eye can also be programmed to monitor tool
wear on a periodic basis.
The Mega Turn 900M is equipped with the Mazatrol SmoothG CNC and its suite of Smooth Technology software solutions. The control's innovative programming, performance and monitoring functions, as well as the ability to use both EIA/ISO and conversational programming bring optimal speed and accuracy to complex part production.
To further boost its productivity through continuous machining, the Mega Turn 900M can be integrated with an optional two-pallet changer.