February 03, 2023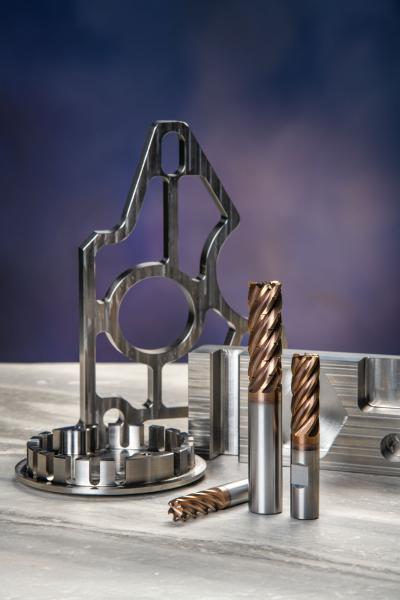 IMCO Carbide Tool Inc. has developed a new series – M936 POW-R-FEED end mills – designed for faster part cycles and speeds never seen before with IMCO legacy tools, regardless of machining stations' horsepower.
"This is the cutter for any programmer machining steels, stainless steels and titanium on 3-axis to 5-axis CNC machining centers that wants to run fast and helical enter, ramp, slot and peripheral mill at fantastic feed rates," said Matt Osburn, Vice President, Technical Director for IMCO.
"The M936 is designed for very aggressive traditional tool paths, stepovers and depths beyond the reach of any of the industry's legacy tools," Osburn said. "It's IMCO's free-est cutting end mill in steels to date."
"Our goals were higher running speeds, free cutting action and the highest metal removal rates we could achieve," Osburn said. "We redesigned and reimagined every aspect of the original POW-R-FEED series to maximize free cutting action, facilitate maximum speed and metal removal, and extend tool life in the metals our customers work with most."
The M936 maximizes the output of machines most customers use, explained Steve Avers, IMCO's Technical Support Manager. With conventional low-horsepower machines, this free cutting action means the M936 cutter can run to the machine's upper capacity limits.
Change tool path moves without slowing.
"Users can make various tool path moves without slowing down," Avers said, "so they get faster cycle times and more production." When a 5-axis machine can swing an end mill around in all directions without clogging, the machinist can complete the operation with one chucking, saving a lot of time.
Unique flute and core geometries achieve extremely aggressive cutting parameters. The proprietary end face allows very aggressive ramping and helical entry parameters. A super-tough carbide core and an ultra-modern AlTiSN slippery-smooth coating prevent chip buildup and allow higher feeds and metal removal rates.
"Combined," Osburn said, "these features make the tool virtually impossible to clog,"
Tool life is exceptional, thanks to the variable helix and variable index effects on vibration damping, the specially engineered carbide grade and ultra-modern coating.
The M936 is a very affordable alternative to competitors' high-performance tools for machining these metals, Osburn said, "and the price-to-performance ratio is exceptional."
"We do whatever it takes to give our customers the edge and help them achieve higher productivity and profitability," Osburn said. "That's what we do best."