November 07, 2017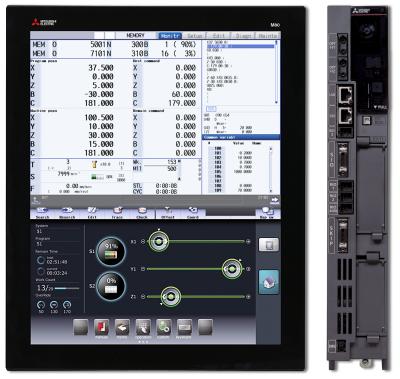 Mitsubishi Electric Automation introduces the M80W computer numerical controller, the latest in its M8 series CNCs. The M80W features a touch screen Windows-based display that is separate from the control unit, providing expandability and flexibility. Incorporating the latest operating system and slim personal computer, the M80W includes two expansion slots for 32GB SD cards, allowing OEMs and end users to add up to 64GB more memory for even greater flexibility.
The new M80W CNC was designed for the automotive and machine tool industries, and is especially useful for applications such as turning centers, machining centers, lathes and mills.
Key benefits of the M80W include:
CNC-dedicated CPU for improved cycles times, faster program processing and more accurate machining
Intuitive, touch-screen operation for optimal visibility
Improved super smooth surface (SSS) control, reducing machine vibration during high-speed cutting
High-speed, high-accuracy mode comes standard, allowing for complex, highly precise 3-D mold work
User-level data protection allowing for multiple levels of permissions based on operator's role
Field network compatibility with CC-Link, PROFIBUS DP, and Ethernet/IP for easy connectivity to peripheral equipment and devices
The M80W CNC includes a 19" vertical display with a split multiple window that can be customized by arranging a keyboard, operation panel, document viewer or other applications. In addition, real-time servo and spindle tuning helps maintain machine stability by adjusting the control gains automatically.
"We designed the M80W from the ground up, creating a revolutionary leap in CNC performance," said Scott Strache, product manager at Mitsubishi Electric Automation Inc. "This new standalone CNC is a breakthrough in the control of high-speed, high-precision machining, while offering high productivity and easy operability."