March 16, 2016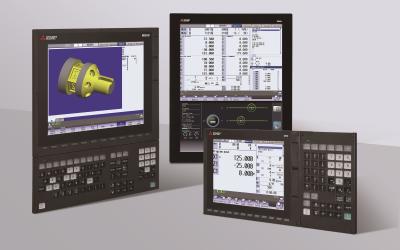 Addressing the need for a fast, precise and affordable CNC for complex machining applications, Mitsubishi Electric Automation Inc. offers the M800 and M80 series CNC and components. The M800 is a high-grade CNC for high-speed, high-accuracy machining and multiaxis, multipart system control and features a fast CNC, while the M80 provides high productivity and easy operability.
"Factory owners, machine operators, production supervisors and other end users who need fast production in complex, high-value production applications can now specify Mitsubishi Electric M800 and M80 Series computerized numerical control from their machine tool builders," said Steve Dumont, vice president, technical service and support, Mitsubishi Electric Automation.
Key features of the M800/M80 series include:
CNC-dedicated CPU designed for high throughput and complex machining applications
USB and SD card expansion to easily store and execute large, complex machining programs
Solid state hard drive for superior reliability, speed and uptime
Large, capacitive touch screen for easy and intuitive operation
Mitsubishi Electric's newest CNC is particularly well suited for medical, aerospace, oil/energy and automotive industries, especially in applications requiring high throughput and reliability.

The M800/M80 series is characterized by its ease of use, featuring icon-based navigation for smartphone-like operation. It supports eight part systems, 32 axes and eight spindles, and offers multiple spindle synchronization set control. It also provides super smooth surface control, reducing mechanical vibration.
This CNC is flexible, offering compatibility with numerous field networks, including CC-Link, PROFIBUS DP and Ethernet/IP. It can also be connected to robots, sensors and other peripheral equipment and devices.
Related Glossary Terms
computer numerical control ( CNC)


computer numerical control ( CNC)

Microprocessor-based controller dedicated to a machine tool that permits the creation or modification of parts. Programmed numerical control activates the machine's servos and spindle drives and controls the various machining operations. See DNC, direct numerical control; NC, numerical control.

numerical control ( NC)


numerical control ( NC)

Any controlled equipment that allows an operator to program its movement by entering a series of coded numbers and symbols. See CNC, computer numerical control; DNC, direct numerical control.