January 20, 2016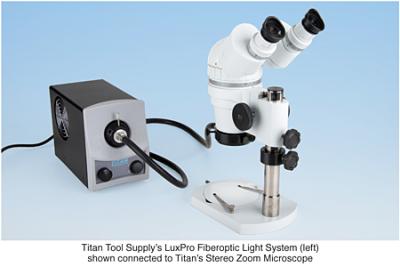 Titan Tool Supply Inc., Buffalo, N.Y., this month unveiled a new fiberoptic illuminator that reportedly brings sustainability, performance, efficiency and convenience to users of illuminated borescopes and microscopes, the company announced in a Jan. 19 news release.
Following extensive, in-use testing of its new LuxPro LED Fiberoptic Light System, Titan Tool President Frank Menza said the new system:
pays for itself in less than 2 years compared to quartz halogen fiberoptic illuminators, and offered continued savings on energy costs, bulb replacement and maintenance costs in replacing lamps.
exceeds the brightness of a 150-watt halogen bulb while reducing energy consumption by about half.
offers optimal thermal management to maximize reliability and optical performance of most borescopes and microscopes.
guarantees bulb life of 25,000 hours, though the LuxPro's LED typically achieves up to 50,000 hours of life.
The new LuxPro illuminator features linear light intensity control with continuous dimming, and accepts virtually any light guide with quick-change adapters, according to the company. The illuminator is said to provide a consistent color temperature (cool white 4500 K) and comes equipped with a standard 0.625" light guide fitting (nosepiece).
The 7 lbs. unit features a rugged housing and a small footprint of 6" high x 4.75" wide x 9" deep, making it suitable for mounting and stacking in constrained areas.